Tuesday November 16th, 1999 at The Bottleneck in Lawrence, KS
Bardo Pond, Physics & Filthy Jim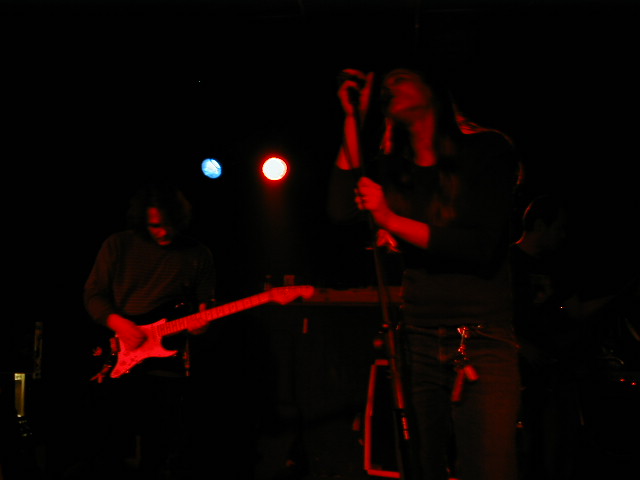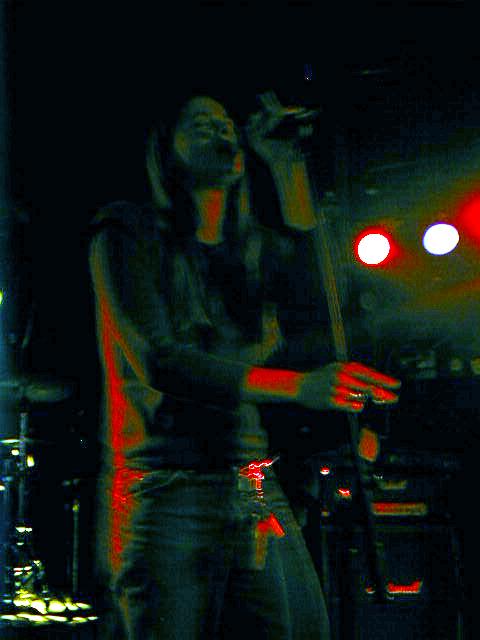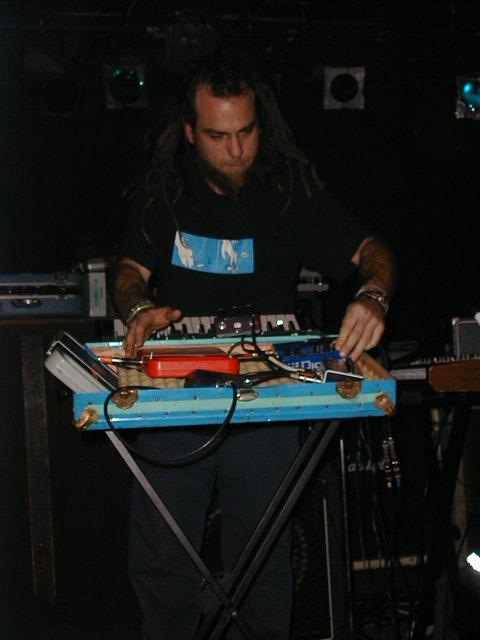 [more]
Notes: Both Physics and Bardo Pond requested basically no light on the stage so the pictures are bad at best. I went ahead and tossed a bit of "night vision" effect on the ones that would have otherwise lost but sheesh, kinda stinky. Sorry
The audience was primed (many of them with help of external chemicals) for a dense flowing sonic wave of indie rock. But when confronted with the jarring and noisy rock & roll of local opener Filthy Jim, most were less than interested. Although Filthy Jim has been road tested with some out of town shows recently, they still seem to run hot or cold depending on the crowd. I've seen the band play locally four or five times, but I've yet to see them play a good, high energy show where the audience wasn't immediately into the band. Consequently the night began with a short uninspired set.
Physics (featuring prolific multi-instrumentalist Rob Crow) were on the road with Bardo Pond and were thus patently more suited to the headliner. Other than Rob Crow on keyboards, synthesizers and various toys (a modified Speak & Spell™ among others), there were two guitars, a bass, a keyboard, & drums. The stage full of musicians had the lights dropped, and played their short flowing set in the dark. Their sparse instrumental compositions typically began with a single quiet instrument and added layers of fairly clean sound slowly. Melody was generally ignored and texture was the real focus. Indie rock, space rock and psychedelia all merged wonderfully although without a dynamic frontman, the audience were unsure of the band as a live experience.
The five very "altered" members of Bardo Pond took the stage without fanfare and to an audience of less than 40 people. Without a word, the band launched into a long meandering song that allowed both guitarists to exercise their effects pedals and visit the furthest tangents possible. Another long, slow and nebulous song followed and the crowd thinned further. The set then shifted and began to take form with Limerick from Amenita (Matador 1995), followed by several songs with definite structure, defined lyrics and even melody.
These more structured songs [and I use this term very loosely] corral one guitar to a steady snarling rhythm and send other guitar off on the band's signature textured droning, work better than the earlier longer, explorative pieces as they provide a focal point. Although the audience continued to thin throughout the band's set, I don't think it was because of a distaste for the band's music, but rather due to a lack of interest point in their show.
As expected, the band's live performance was not able to provide that focal point either. Aside from each member's steady sway, the only real action came from vocalist Isobel Sollenberger who smiled blankly and sincerely thank the audience after each song before pausing to determine if she would need either her flute or violin for the upcoming song. It was an oddly mechanical wig out.
Although there were only a couple dozen fans left when the band finished a little after 1:45, each of those fans approached the band to shop the assortment of rare CDs and T-shirts the band were selling for gas money and to apologize for the small turn out. Those indebted fans seemed very genuine even if the mix of hip indie kids, stoner burn outs and old psychedelia fans were enough to frighten little old me back home to bed.