Monday September 22nd, 2003 at The Middle East in Cambridge, MA
Battles, Suntan, & Strictly Business, & Sprinkles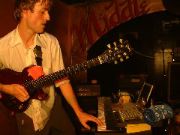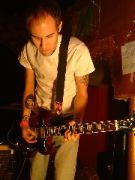 [more]
While I planned this to be my glorious return to the live music set, I showed up at the Middle East only firing on two of three cylinders. Yes, my camera was fixed, having just been returned to me that very morning. Yes, I was actually in town for a show, which has been a rarity as of late with my exhaustive and delightful travel schedule. But, I was terribly tired and in a considerable amount of pain due to a tumble my scooter and I took on the interstate a few days prior. Details of that can be found on my LiveJournal site, but know that if this show had been anyone other than Battles, I would have been at home, leg elevated, ice cream near by, with John Madden calling the plays for me. Why the effort for Battles? Better go read my account of their last show in Boston.
--
Conventional wisdom tells us the audiences come to see the headliner; therefore it's important to remember that those who make it to the club at 9pm are either losers with no life (me), cheapskates who want their full $10 worth (me), or friends of the opening band. Based on the hollers and hoots emanating from the audience during Sprinkles' set, it seems as if it might be too early in the semester for the college kids to be bored or poor.
When the audience wasn't heard shouting its sardonic praise at Justin Joyce (the one-man band known as Sprinkles), the air was filled with the sound of two hands rapidly pounding on a cheap keyboard set to emulate a piano. While there were slight variations in the rhythmic accompaniment (originally programmed on a drum machine and transferred to minidisk for playback), Joyce's keyboard lines were nearly identical from song to song, and it all resembled the opening of Bon Jovi's "Runaway." This is not a good thing.
This maniacal keyboard attack was matched by a visual element that simply led Joyce through a series of poses taken from the heretofore-unseen Yoga for Keyboarders Workout. I was most fond of the elongated position designed to stretch the hamstrings. Other positions were more statuesque, and simply featured Joyce standing at attention while a single finger pressed a single key on his keyboard. Throughout the performance, Joyce's stern, expressionless face occasionally shifted into an involuntary smile, hinting to the audience that, despite the high performance art presentation, Joyce knows that Sprinkles is simply silly fun.
During the preprogrammed closer (tacked on as an unsolicited encore of sorts) Joyce was free to leave his keyboard and demonstrate his dance moves. His stiff grinding and synchronous, rhythmic ass-shaking seemed to cross N*Sync with Devo or possibly just the faux-seriousness of Mike Meyers in a "Sprockets" skit.
Unlike any other city, musicians in Boston seem to reassemble in innumerable combinations. For instance, Sprinkles' Justin Joyce used to be in a band called Pizza, not so coincidently with Fin Moore and Scott Buoncristiano. Both Moore (who has been in many other bands such as The Ninja, Robots and, notably, Victory at Sea) and Buoncristiano found their way to the evening's second act, Strictly Business, joined by Matt Doyle and Ken Bernard. While Doyle may be a fresh name, Bernard has been a fixture on Boston stages with The Wicked Farleys, The Ivory Coast, Skating Club and Certainly, Sir. Again, for a town where ten thousand new students arrive every fall, it sure seems like there are only 25 musicians who must be constantly tapped when new projects arise.
While I may know the pasts of Strictly Business's players, how they have recombined to create their unique sound is lost upon me. The root is rock and roll in a frolicking sort of way – a fun bar band of sorts. With that homegrown pub element comes a bit of alt-country/singer-songwriter earnestness largely manifested by singer/guitarist Fin Moore. With his western-wear shirt open to his navel and ragged blue jeans, Moore seems to believe he could be next in rock's long-revered string of working-class saviors. The band, however, may have other ideas, as each song is peppered with odd guitar idiosyncrasies. Sometimes these work to great benefit, giving the songs flourishes of interest, while other times these musical diversions (often lead by Matt Doyle's second guitar work) seem ill-advised and contrary to the simple nature of each song.
Can the band build on the strengths of the players and refine its songs into more organic arrangements that still highlight the counter melodies and rhythmic complexities? Who knows? When considering the time constraints that will be created from the imminent success of Certainly, Sir, however, it's unlikely the band can log the necessary hours to perform that necessary musical soul searching. [Update: Ken Bernard is no longer performing with Certainly, Sir.]
Several branches up the evolutionary tree from Strictly Business, you'll find Suntan. For nearly three years the members of the band built their sound and tested its mettle while knocking about Boston. When satisfied with the results, the band picked up and moved to New York City. Months ago I saw them perform as a local band; on this night they announced (without irony or apology) that they were "Suntan, from New York City." Indeed.
The band is a four-piece lead by vocalist/guitarist Nick Holdzkom, a gent who looks a lot like Curtis Armstrong (Revenge of the Nerds' Booger among other roles.) The reality is the band has no frontman, but instead the band allows elaborate flowing compositions to speak for themselves. Vocals are few, and merely accent the music rather than define it. Between songs there is no banter, merely quiet and reserved mumbles of thanks.
Musically, the band drifts from simple, staid, shoe-gazer progressions to fiercer, stoner-born swells (think Bardo Pond here). Second guitarist Scott Endres pushes these rare moments of fury forward, turning the always-intense sonic comforts into momentary sonic assaults. Neither organist and co-founder Lindsay Arth nor drummer Dominic Mariano shows any awareness of these shifts. Much like their audiences, they seem mellow and entranced through their set.
While the audience was given a respite between acts, Battles would soon mesmerize the crowd once again. However, Battles would not simply lull its audience into its collective grasp with cradling opuses as Suntan had, but would actually induce a sort of hypnosis through sonic repetition. Guitarist Ian Williams continues the work he started with seminal math-rockers Don Caballero, matching those overlapping, repeating, and jabbing guitar lines with similar keyboard runs comprised mostly of electronic blips and bleeps seemingly lifted directly from Atari's Pong or Combat.
Although Williams may be the heart of the band, each member builds upon his ideas to create Battles's sound. Most notable is the contribution of multi-instrumentalist Tyondai Braxton, who contributes a similarly themed guitar as well as keyboard and processed vocal effects. Dave Konopka's necessarily clean guitar sounds mysteriously exotic compared to the above duo. Of course in other band we'd discuss the winding inventiveness of his lines; here it seems merely par. Drummer John Stanier completes the quartet, playing accent percussion that augments the musical direction of the band rather than plotting its direction or providing its marching orders.
Together they create the sounds that captivated your 8-year-old soul on a Friday night sleepover as you watched the white dot, complete with chaser, slide across the TV screen. When you closed your eyes later that night, you watched the dot move on your eyelids still, and the sounds continued to echo warmly in your mind. It was a brave new world in 1978, and Battles captures every bit of that anxious yearning as they create a new world today – a vision that resonates most undeniably with audiences.
In the months since Battles' first appearance in Boston, its crowd has doubled. I listened as each person in the audience told the uninitiated what to expect, or what happened at the last show – everyone brought a friend, a witness. The crowd was hip – many not yet twenty-one and thus sporting the club-imposed "X" upon their hands. The audience seemed to be visibly split between the technical types studying the keyboards and computers and effects pedals or attempting to break the band's music into mathematical equations, and the more artistic kids who attempted to dance to the broken, impromptu, and morphing rhythms.
While the barrage of sounds is not entirely accessible, it is easily identifiable and inspires audiences immediately. The deeper elements of the band's composition and interaction are much trickier and can easily obsess those looking to reduce the band's music into notes and time signatures. With the multiple guitar over-dubs (provided live by pedals and outboard gear), I don't believe the mutating sound of Battles could ever be cataloged in such a way. This is entirely new.
Although I've yet to conduct a formal interview with the band, it is probably safe to assume that compositions are planned improvisations with keys and themes designed to come into use, but never in the same way twice, and never when you might expect. Often the songs build from a single guitar, then add that guitar doubled upon itself, then doubled again, then slowly the band joins in, comes together, falls apart, and them comes together again. It's fascinating on a cerebral level, and captivating on a purely sonic level.
Surprisingly, the band ended on a down note, closing with a purely improvisational piece that never seemed to connect with the audience or its players. Williams backed out occasionally, amusing himself by performing handstands against the wall of the club, or simply slumping down against that wall. Afterwards I talked to Williams. His voice was mellow, his mind fully engaged, and his body hyper. The combination seemed artificially induced, if not unholy. I asked about the wall stands and Williams turned his head over his shoulder, looked at the wall, and offered, "I just discovered it tonight. It's a great wall." While maybe not outwardly competitive, I think he must have been trying to show up Sprinkles' Justin Joyce by performing from the Advanced Yoga for Keyboarders Workout.