Wednesday June 11th, 2003 at The Middle East in Cambridge, MA
Evan Dando, Cobra Verde, & The Pieces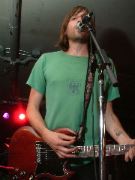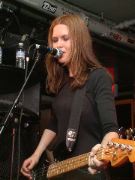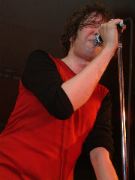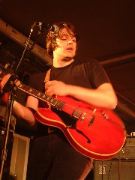 [more]
For months you've read about my search for Boston's heart. In that time you've witnessed my disappointment with countless nameless opening bands, each falling short of Boston's rich past. Although there have been bright spots from unknowns, you must have recognized that it's Boston's old guard who have provided me with the greatest highs. It was with this in mind that I headed to the Middle East to see Evan Dando.
I wasn't really concerned with who Dando might be using as a backing band; the opening bands were also of similar irrelevance. And although I might count myself as a fan of The Lemonheads, I've never purchased a CD (though I do own a few through the magic of ex-grrlfriends) and my knowledge of the band goes no deeper than an All Music Guide bio. I bought a ticket for the spectacle and event of the show, not for the songs I might hear.
At 7:20 or so I began to pack up for the show. I was planning on dining somewhere around The Middle East. Somewhere decent, Bertucci's maybe. When I called the club to find out the set time particulars, my dinner plans disappeared. An 8:15 start time? Who's heard of such a thing? I grabbed two slices of pizza at TJ's and ate them as I waited at the bus stop.
At ten after there was a line of about a dozen ragged fans standing outside The Middle East. Studying the crowd, it was obvious this wouldn't be a fashion show; the kids had stayed home, and the hipsters were nowhere to be found. The conversations I strained to overhear were also different. There weren't fantastic tales of drunken escapades birthed at someone's "space," but rather complaints of people on "the" mailing list who were annoying. I heard conversations about workplaces, discussions on what the band might play, and retold sagas of hunting for a promo CD-single released during The Lemonheads' dark period. It was all terribly mundane and I longed for a debaucherous tale involving cocaine, an art opening, and someone's ex-best friend. The Middle East is normally so ripe with such parables.
Eventually the boring lot of us was let in, our IDs were checked, and our $15 tickets were collected. I hurried down the stairs and parked myself on the edge of the stage between two monitors. Soon I was passively involved in a game of Scrabble on my Palm Pilot, legs swinging freely beneath me. The sad reality is I certainly qualify as the geekiest of the lot. These are my people? Oh how did it come to this?
At 8:30 an unassuming threesome slinked onto the stage and picked up their instruments. There was no tuning, or even introductions – the band just slid into the first song. Indianapolis's The Pieces have taken the common Indiana roots rock affliction and combined it with the city's recent penchant for twee pop. They've then amplified the mixture with the sonic exploration of the Midwest's loose indie rock. The result is best described as pleasant. While their songs emanate a certain freshness, there is a disdainful familiarity in every note played, in every word sung. This plays well with the hometown crowd, or so I'm told…
To digress, my family is from Indianapolis, and I suppose I was once too. They were in Boston two weeks ago for their first visit to the East Coast and my mother wouldn't stop talking about a band called The Pieces. She put the CD on every time we went out (and every time we'd stay in) and left it with me along with specific instructions that I should listen to it. I wondered if Mom had secretly been hired as the band's manager or maybe she was just trying her hand at A&R for my label. Over the course of the entire week the band served only as unnoticed background music. Afterwards the loaned CD sat idly upon the towering stack of perpetually ignored music that exudes guilt from the corner of my desk. Of course when I saw The Pieces, I didn't immediately make the connection. Futhermore, once that connection was made, I made the conscious decision not to inform the band how much my fifty-two year old mother likes them.
Singer and guitarist Vess Ruhtenberg (United States 3/Antenna) is largely responsible for the earnest whimsy of the band. Songs are built around typical pop structures with rock guitar leads played on a hollow-body Gibson electric. There is a rootsy bend to his solos fitting somewhere between Chet Atkins and Buck Owens. Ruhtenberg's voice is strong and never relies on hushed sap or grunted rasp. When joined by bassist Heidi Gluck and drummer Devon Ashely, the three voices create smart harmonies. It was, as I've said, all very pleasant. Unfortunately, I found it to be little else.
After a long thirty-minute set change involving the constant meeting of my one good eye and a clock, Cobra Verde began their set with a jolt and a roar. While the band may predate the discounting use of the label, they are, for a lack of a better term, rock rival. The press will tell you the band is a glam rave-up owing to T-Rex and The New York Dolls, but that just wasn't apparent in their stage show. For glam to really work, a band's performance must showcase the animated energy and visual electricity of their singer, and for Cobra Verde, that role fell to drunk (at best) vocalist John Petkovic. Although he was able to hang on the microphone stand as if he were Mic Jagger, there were few other tricks in his bag. This fact alone kept me from buying into the band's performance or the hype surrounding them.
However, I was, at times, enthralled by the guitar and backing vocal work of Frank Vazzano. His swagger and sheer attitude seemed reminiscent of Andy McCoy or even Keith Richards. He was the second man that somehow was on equal footing with the frontman. That's always an interesting dynamic when it works. With Cobra Verde, that did work.
Interim guitarist J Mascis (Dinosaur Jr) was curiously out of the spotlight, and out of step with the band's image. Unlike his revivalist bandmates, Mascis's long, limp, gray hair and flower-stenciled Fender Stratocaster made him seem as though he might have been an authentic artifact of rock & roll's heyday. His leads were quick, inventive, and mesmerizing. Never tight or mechanical, but warm, flowing, and even occasionally sloppy. The flaws (a string not bent far enough, a string abandoned too quickly) were only endearing and served as a reminder of rock's soul, not its precision.
While the soul of rock & roll may be safe with Cobra Verde, its excesses seemed to be kept alive by Evan Dando. My first clue came from the silver tour bus idling outside the venue. I knew it must have belonged to Evan Dando, but I found it impossible to comprehend. Only months before I had seen Juliana Hatfield and her band tumble out of a refreshingly small red club wagon to play a show in Lawrence, Kansas. The variance between the two was just too large to grasp.
During the long intermission between bands, Dando sat backstage while techs and stage managers scurried about the stage meticulously placing amplifiers, pedals and instruments. When all seemed to be just so, guitarist Chris Brokaw (Codeine / Come / The New Year / Consonant) walked out to make his adjustments. His appearance was followed by that of drummer George Berz (Dinosaur Jr.), and eventually that of shy bassist Juliana Hatfield (Lemonheads / Blake Babies).
When Evan Dando finally poked his head out on stage, he was welcome by voluminous applause. This uproar only added to the audience's unfortunate let down when the first strum of his guitar produced nothing. Incredulously Dando simply handed the guitar back to his guitar tech, exited the stage, and returned to his dressing room. Five minutes of inept fumbling with a chain of effects pedals finally resulted in a usable instrument, and Dando was again coaxed from the backstage room.
All the fuss had left the air thick with the smell of rock star ego, but I was in no position to complain. Isn't this what I had come for? Hadn't I come to see the triumphant hometown return of a not-quite-rehabbed Evan Dando? Could there be anything more spectacular than the disdainful look of a star planting his guitar firmly into the chest of a failed employee? I likened my responses to those created by The Osbournes or even Anna Nicole. It's the joy of disapproving voyeurism that attracts me like a bear to a pic-a-nic basket. Am I any better than the rubberneckers on the Mass Turnpike?
While the exhibition of The Evan Dando Show was primarily responsible for coaxing me out on a dreary mid-week evening, any satisfaction that I may have found in the lurid nature of the performance was immediately trumped by Dando's spellbinding musical vision. I'm decades late in pointing out Dando's exquisite songcraft. His poignant lyrics are carefully placed between the inescapable melodies and the gleeful abandon that comprise his unaffected pop. Seemingly, his songs are born from energy and the dumb luck of natural predilection. While the band showcased a dozen of Dando's brilliant compositions, it's easy to imagine hundreds more lurking in Dando's mind--that is, if his seemingly effortless delivery hints to a similarly effortless gift for composition.
Although Dando may have donned the gown of a prima donna before his set began, it all changed once he plugged in. No longer aloof and expecting of his fans, he transformed into the seasoned showman the decades have shaped. Furthermore, he was able to entertain without the gaudy rehearsed falseness of tossed guitars or spun microphones, just a conversational tone from a man entertaining an audience there to see him. Whether through some dramatic character shift, or simply fine acting, this second Dando was able to convince each audience member that every song played was written for him or her personally and for that exact shared moment. That connection elevated the Evan Dando concert into an event. Not because Boston's Evan Dando was on stage but because a gifted performer was directly relaying his art to the audience in a language they both shared.
Once the band had completed their set and left the stage, Dando returned with an acoustic guitar for a five-song encore consisting of "The Turnpike Down," "The Outdoor Type," Ben Lee's "I Wish I Was Him," "Ride With Me," and "Hannah & Gabi." It was with this acoustic format that Dando first returned to the stage several years ago, so of course he seemed very comfortable with the stripped versions of his songs. This intimacy allowed him more direct communication with the audience, including calling out a particular audience member for getting digits during song. The truth is, that audience member was I, and despite the very drunk and attractive fan hanging on my shoulder and planting sweet kisses on my cheek for giving her the set list, the only items entered in my palm were notes to be used in the writing of this account. All the same, Dando quipped it was good to be back, and it was as if nothing had changed. Indeed, it is good to have Evan Dando back. It just wouldn't be Boston without him.