Saturday January 22nd, 2000 at The River Market Brewery in Kansas City, MO
Ultimate Fakebook & Lushbox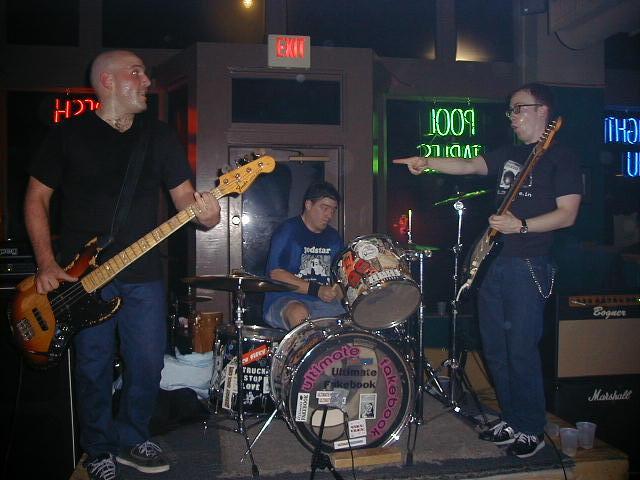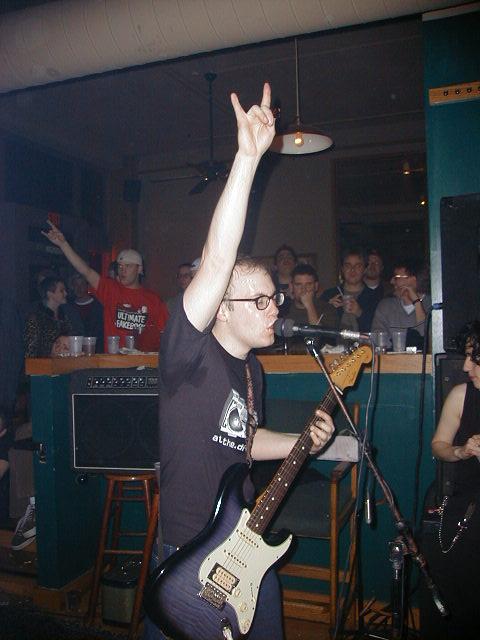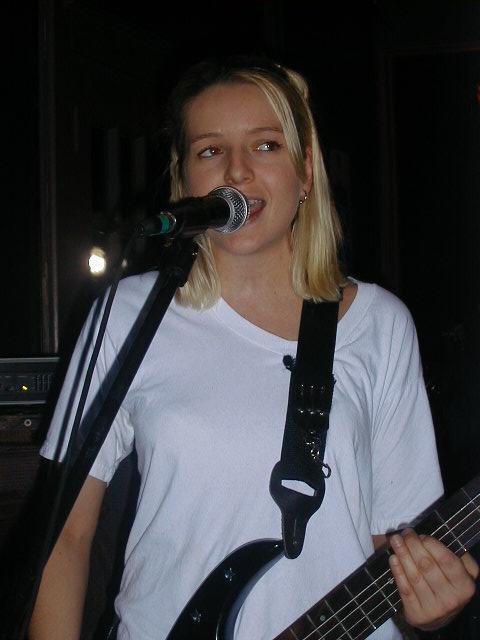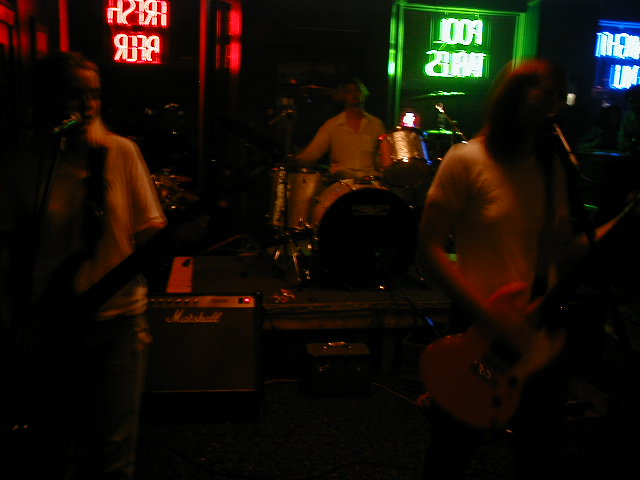 [more]
NOTE: The pictures all look like bunk because I had to flash to get anything to show up. Seems The River Market Brewery stopped setting up lights at their shows which is a big mistake.

A friend from college called me from a hotel room in St. Joseph earlier in the evening. He joined the Air Force about 7 years ago and has been stationed in Tokyo for the last two years. And although you wouldn't think it, evidently St. Joe is the home of the Air Force's best tactical training program. Go figure.
Anyway I drove up I-29 and picked up Mike and we drove back down to The River Market Brewing Co. where we meet Vanessa and my cousin Ryan for dinner. Only a 50 minute wait for a table. Only another 40 for the food. Definitely a slow, relaxing dinner for getting reacquainted with a old friend.
After some embarrassing car trouble, Lushbox arrived around 9:45 to an already packed club. Although Fakebook typically draws a "collegiate" crowd, the River Market audience was literally stuffed with future middle managers in gap wear. There were still a few art students and indie kids in their thrift store sweaters but I wasn't fully at ease until I saw the regular crowd of Lushbox fans assemble up front. This crew of about 5 or 6 grrls come out to all the Lushbox shows, sing all the words, smile appreciatively and sway up a storm; they make even the emptiest rooms friendly. That however wasn't going to be necessary with this River Market crowd.
Lushbox began their set with a gutsy new song but quickly ducked into a string of songs from their EP for safety. The set seemed to be a pretty even mix of their older pop material and newer, darker songs that weren't as simple or quite so obvious. Normally I think complex is good, but in Lushbox's case you hope they go with what works – light vocals over infectious and power pop.
A lot had changed since the band's first gig with the new lineup only a couple of weeks prior. Not only were the songs more cohesive, but the members were more familiar with each other on stage. Any awkwardness between vocalist/guitarist Brianne Grimmer and new guitarist Rob O'Toole has been completely removed, and where bassist Brit Smiths's backing vocals were a little timid a few weeks ago, they were solid and sure. Drummer Wil Plunkett was of course never phased by the changes and has continued to propel the band forward.
Brianne seemed to be really taken back by the engaged crowd and was genuinely confused by the great response they got from the jovial audience. Because of that, the band never fully relaxed even when the audience was already won over. She wasn't left entirely speechless though... she managed to get out "You guys rule!" several times throughout the evening. However the scene wasn't so awesome for the three members of Ultimate Fakebook – large enthusiasic audiences are just the chow they live on.
Fakebook played a fantastic show of pure energy. There is some k level chemistry thing going on that keeps all three highly charged players in balance; one wrong player and the whole band would positively fly apart. Nick Colby was always moving around the floor [The River Market Brewing Co. no longer has a stage for bands.], pacing with his bass and gravitating back to the microphone to contribute backing vocals that come from somewhere deeper than the diaphragm. Eric Melin was a drummer possessed. By the second song he was already covered in sweat and removing layers of clothing. Vocalist/guitarist Bill McShane is a wonderful frontman with a strong voice and guitar licks better than even he would admit to, but he is smart enough to know he is not the band and that impresses me. He's also smart enough to realize that Fakebook's fans don't show up in droves to see shoegazing indie rock, they're there to see a high energy rock and roll show and he gives them a performance full of motion, jumps, crowd acknowledgement & all-important devil horns.
Bill was conversational with the audience of friends and constantly echoed Brianne's earlier sentiments concerning the audience ruling and such. After ending their set, the band was called back on before they could even leave the "stage". Bill was gracious, asked that the band be allowed to catch their breath, and promised to play another one. Eric and Nick polled the audience to see what they should do for an encore and were barraged with half-serious screams for covers. To teach the fans a lesson, Bill began playing a 311 request and the rest of the band quickly jumped in. Now that's just wrong.
The band did end the show with their signature cover of The Replacements', Alex Chilton, and within seconds the stage area eroded as did the line between the band and fans. The River Market Brewing Co. turned into one group of friends to which I said my good-byes before heading back up I-29 with the college roommate who rattled on about the show the whole way. I know both Lushbox and Ultimate Fakebook made at least one new fan that night.