Friday February 4th, 2000 at El Torreon in Kansas City, MO
Flipcide, Gadjits, The Distorted & Myme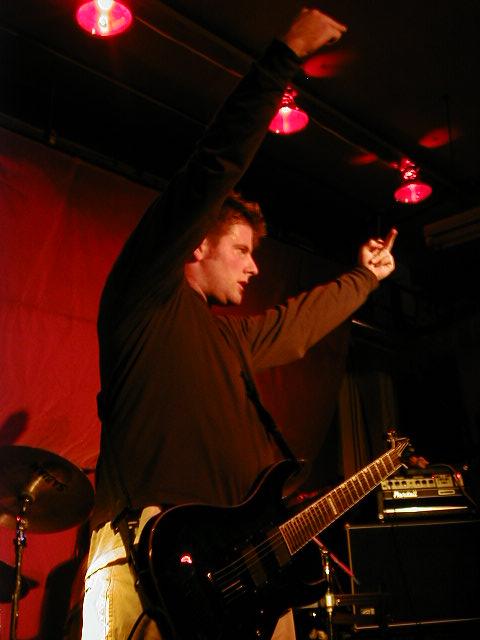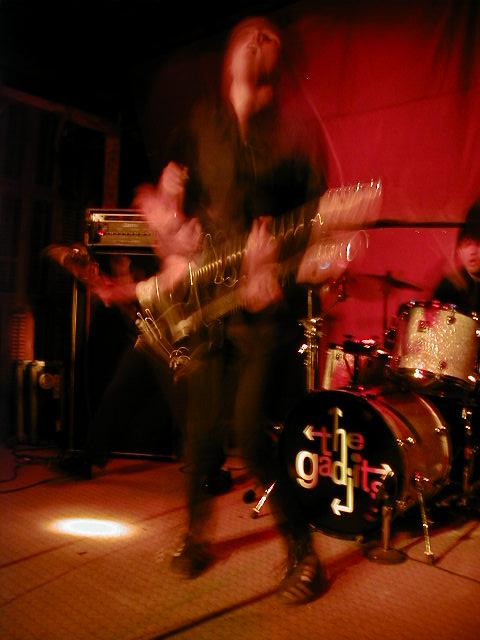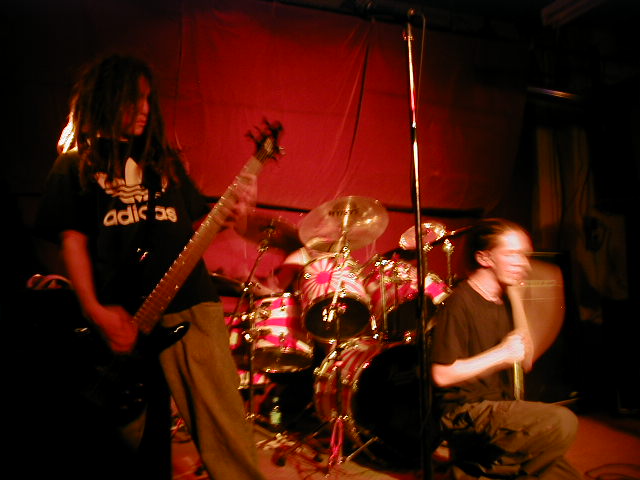 [more]
I had just planned on ducking into the club to introduce myself to the El Torreon staff, hopefully get a tour of the building, and possibly get their ideas about the website that I offered to maintain for the club. I wasn't expecting to turn into the parking lot behind three other cars, nor to have to wait in a line to get into the building. It was a busy night (even at $7 a person) and so I elected to just mill around the club and catch a few bands while waiting for Brian and the rest of the staff to have some free time.
The first band finished their set at 7:30 while I was still in line. I chuckled thinking about the empty room that The Replay would be at 7:30 on a Friday night. I'm afraid I don't even know the name of the band I missed however there were still four bands left so in a way, I was thankful. At my crotchety old age, four bands is definitely one too many, five is unbearable.
Band #2: Myme. The four boys began setting up their gear and I cringed when I noticed they all wore the post-grunge-gone-skater loose uniform popular at their high school (with the greaser addition of bowling shirts and wifebeaters added for good measure). The drummer (a rough, slightly older looking sort with a shaved head and a goatee) had a lovely "land of the rising sun" kit that must have been salvaged from Loudness' last American tour sometime in the mid 80s. The bass player played a five string (without the low string - like Brit from Lushbox) and he really anchored their songs. His strong basslines coupled with a fair amount of rumble provided direction in their metallic rapcore.
Although the singer began the set with tons of motion and energy with his long hair flailing about, he soon pulled back his hair under a University of South Carolina "COCKS" cap and slowed until he merely paced the small stage. The occasional vocal effects pedal he used added some variety aside from his scratchy growled vocals and his normal rapping/singing voice, however the voice modulator that had him sounding like a combination of Alvin, Simon and Theodore was just too much. The ESP guitar played a someway lessened roll in the music, and although provided crunch, it really didn't take an active enough roll – it wasn't loud enough either. This is what the kids are into, but Myme have a while to go before they can be considered anything but a lesser version of Korn.
Band #3 The Distorted. Again I'm old, I'll admit that, but I swear I saw this band two years ago at Gee Coffee and they haven't aged a bit - they're still high school kids! What has grown however, is the band - two guitars, bass, vocals, keyboards, drums, vocals and congas. It's a good thing that the sound folks at El Torreon don't attempt to mic all the instruments, because it would have taken a ton (and the club only has three working microphones and even those are pretty cheap). After taking a million years to set up and get levels right, the band started a long, misguided set.
The band's punk roots were still evident, but they've added in layers of ska and rap to the mix which is like mixing all your finger paints together as a kid only to create that dull greyish mess. At that point it's so ugly you have to just give up and start over with a blank sheet of paper. The Distorted should do the same and figure out what sort of band they are before playing another show. I took leave of the band and helped Laszlo flyer the cars in the cold parking lot to escape the band's cacophony. When I returned the band was still playing (after their cut off time) and the audience was starting to thin.
Band #3: The Gadjits. Every time I see this band I am more and more impressed with them. Maybe I'm noticing new things, or maybe the band is moving and growing in directions which parallel my tastes, but either way I'm looking forward to their next show already. Guitarist Brandon Phillips, bassist Zach Phillips and drummer Adam Phillips seem to be working on a bit of a mod style with dyed dark mop haircuts and (not exactly coordinated) black wardrobes. Although keyboardist Hillary Allen also wore black pants, her bright red shirt and blonde hair set her apart appropriately.
The crowd of moshing males that were overly active during The Distorted gave way to a group of well dressed grrls who stood up front and swayed and danced, although never really broke into to full-fledged skank. Maybe that is because the band's sound seems to have migrated away from ska and more into a lovely realm of keyboard accented pop circa 1979 (Elvis Costello's Radio Radio is a normal part of their current set). Brandon was energetic and smiled more than I've ever seen a performer do. Why shouldn't he smile though, The Gadjits have been road tested and when they play back at home, that experience shines through.
Last up (lord knows why) was Flipcide. After they received a encouraging if not favourable review in the Pitch, I was at least curious to hear the band. Unfortunately my hopes were dashed as I quickly realized that The Pitch was just being nice, trying to support local music, and trying not to destroy the ambitions of young kids.
Simply stated, Flipcide are bad rapcore just like the hoards of other high school bands that would have been punk bands a few years back (unless they were ska bands). Although maybe not technically high school kids still, the members certainly behaved like that or worse on stage. When the microphone cord would not reach to the far side of the stage where guitarist Justin Lehn was set up (metal guitar - maybe Charvelle, maybe Jackson - and a full stack), he gave the cord a few yanks. When it didn't give any, he threw the mic down on the stage, uttered a few profanities, bitched about the mic cord and then about the club. In an odd sort of way maybe it is good that a band that plays such angry music should be angry, however what is it that makes four clean-cut suburban teenage males so angry? Where do they grow angry kids of privilege? MTV's Woodstock?
Rage Against the Machine's influence on Flipcide is undeniable - from style (though more so the band is influenced by bands influenced by Rage) to lyrical content (middle class values, big business, racism). However it was all watered down, processed and only the most obvious elements of Rage were carried through to Flipcide's music. If you check Flipcide's website you'll see they sport a link to the "Women of KU Swimsuit Calendar." That speaks quite a bit to the committement of the band.
When vocalist Ryan Redcorn called out "I better see a mosh pit for this one", that was enough for me. Thanks Ryan but I'll experience your music anyway I like. With that I left taking only a few pictures and fewer details about the band's performance and leaving you with this unfortunate diatribe about the band instead of information about the band's performance.