Saturday January 15th, 2000 at The Bottleneck in Lawrence, KS
Frogpond, Thulium, & Barnum Principle (aka Starsky)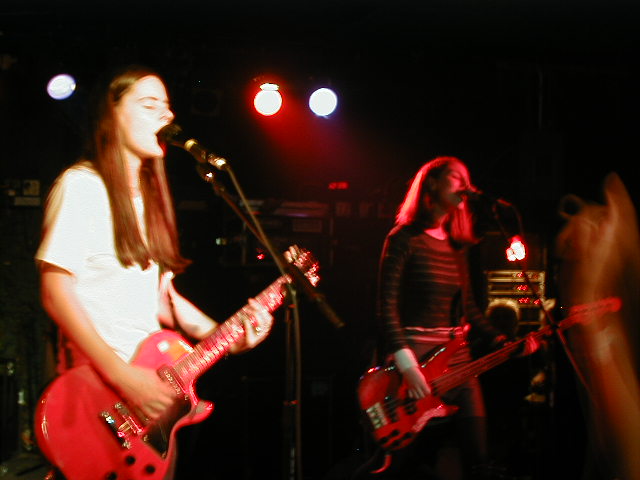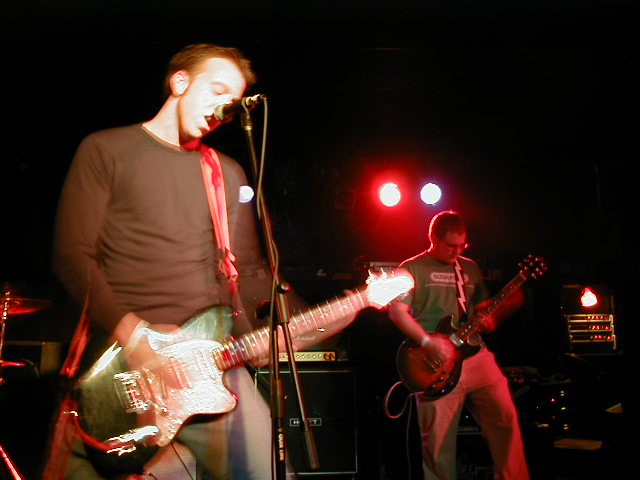 [more]
When I arrived at the club around 9 there was already drama. A last minute cancellation from The Honeydogs had Frogpond, Starsky & the promoters struggling to find a replacement band and an acceptable band order. Thulium were called to open but couldn't make it until 10:30 and everyone had to decide if the show could hold off for them to open with a shortened set or if Starsky should just become the opener. Surprisingly there were no egos, only logistics and so Starsky headed downstairs to load their gear onto the stage.
When Starsky climbed on stage a bit before 10:30, there were already 200 people in the club and there were already [Frogpond] fans lining the front of the stage. In fact, I can't remember another show with an all local lineup where I wasn't able to reach the stage during the opening band. This crowd was wound up. Starsky anticipated this and started the set as a three piece playing an old straight-forward power-pop song Supergirl. After which vocalist/guitarist Zach Popejoy announced "Thank you, we're Starsky and that was our last show!" and the band walked off the stage to audience confusion.
After a confusing 20 second delay the band returned to the stage as a four piece (adding new guitarist Russell Brehends on guitar) and announced their new name is The Barnum Principle. They later explained that the Barnum principle describes something written to be vague so that it can be considered to be a universal truth, such as horoscopes. What they didn't explain is that a band in Arizona also named Starsky had the rights to the name and they were forced to make a name change.
The set then continued with a few new numbers that were more complicated with interesting notey guitar bits being added by Russell. The new songs are an odd mix of power-pop and indie rock with standard structures but non-standard arrangements. It's really tight power-pop with teeth and drive and impact. The band continued with three older songs with new arrangements before closing with another new song with crunch that had the audience bouncing in front of the stage.
The Barnum Principle quickly got their gear off stage and tucked in the back corner of the terribly full club as the five members of Thulium set up their gear. For me Thulium are a hard band to like, as well as a hard band not to like. The polished pop punk they play is beyond Blink 182 and into N-SYNC territory. There is something manufactured about their music, their synchronized jumps and even their haircuts. There is something sickeningly sweet and calculated about their covers of Cyndi Lauper's Time After Time and The Buggles' Video Killed the Radio Star. And when the drummer Jeff Polascheck came forward to rap and sent the vocalist Matt Grobe back to drum, it cemented my fears. Jeff and lead guitarist Bryan Chesen had rehearsed dance moves learned from watching Backstreet Boys' videos!
Now that I have trashed the band let me tell you about their set – the audience loved it. They had the audience dancing and bouncing to every song, and singing along to the covers. The band were genuine entertainers and their stage show was impossible not to watch. Bryan is a great guitarist with fresh leads that aren't in the pop-punk handbook. Matt and bassist Drew Scofield have great voices that blend perfectly. This band has an arsenal of talent, incredible execution, a sound the fans love, but for me it all just lacks heart. I however must be in the minority.
I staked out a place as close as I could to the stage aside the rest of the near sellout crowd. I was surrounded by young grrls looking up at the stage longingly, drunk frat boys making sexist comments, and overdressed college grrls there to drink, dance & enjoy the music (generally in that order). I hate standing up front, camera in hand, and having person after person come up and get in front of me because someone was "saving them a space" while they went up to buy the beer. Ahhh! I did have a secret weapon though... earlier in the evening I found an unbroken stink bomb in the green room. I picked it up without having a real use in mind but when surrounded by crowding drunks, I thought maybe it would help clear the area a little bit.
Having never seen Frogpond live, I had discounted them as commercial alternative radio fodder consisting of cute grrls and only signed because audiences responded favorably to Belly, The Breeders and Veruca Salt. Since those days in the mid 90s, the band has gone though a variety of locally publicized personal changes that I wont retell, but onstage for this show, Frogpond was vocalist/guitarist Heidi Phillips, bassist Justine Volpe, drummer Billy Johnson, and new guitarist Marty Robertson (from Manhattan's El Fontain).
I had hoped to snag a setlist from the stage after the show so I would have at least a fighting chance of writing about the songs they played, however fans leaned forward and took them from the stage even while the band was still from it! I knew I should have taken a picture of it when I saw it earlier in the green room. I can tell you the band played for over an hour, and reportedly played every song they knew which included most of their new album (1999's Safe Home Again), and most of their debut (1996's Count to Ten) as well as a song the band referred to as "the new song" – I think it was new.
The audience sang along to old favourites but their enthusiasm wasn't reserved for the tried; they went crazy for every song. Sometimes too crazy as big drunken guys jumped up on stage to play air guitar or crowd-surf on the heads of the grrls up front. I believe I also got my share of alcohol dumped on me by people who thought they could avoid spilling their $4 drink if they just held it up over their head as the crowd moved back and forth.
Squished up front, smelling of stink bombs and liquor, and unable to shoot the action on stage, I came to an amazingly simple realization about the band; Frogpond is perfectly suited for the music they play. Heidi's voice is touching and frail in a Natalie Imbruglia sort of way for the band's ballads, and ballsy enough for their rockers. Marty's Gibson-through-Marshall guitar tone is thick and drives the band's music forward in a way that Frogpond was always meant to. Justine's bass work isn't flashy but it doesn't need to be; her skills as an entertainer and frontwoman are more appreciated. Her backing vocals were strong and I'm told she has been working with a vocal trainer to get there. You can't be selling out when you're working that hard to get somewhere.
Despite the quiet, one song encore that closed the show, the bar remained full of buzzing people. Word of an after show party circulated but I decided I'd rather duck and out decompress with a bavarian kreme and some quiet.