Saturday November 6th, 1999 at The Bottleneck in Lawrence, KS
Guided By Voices, Those Bastard Souls, & Britt Daniel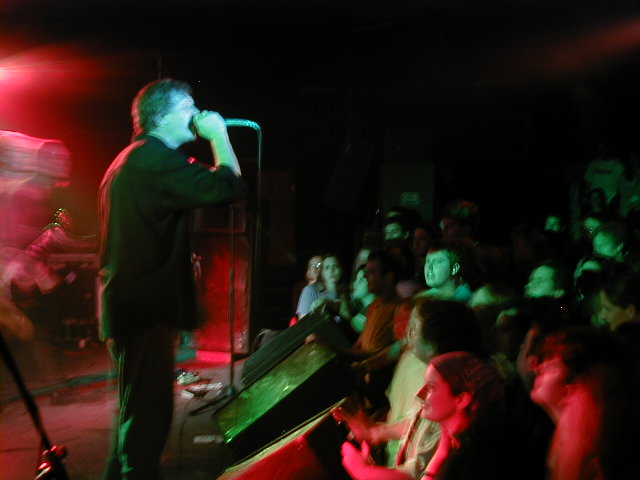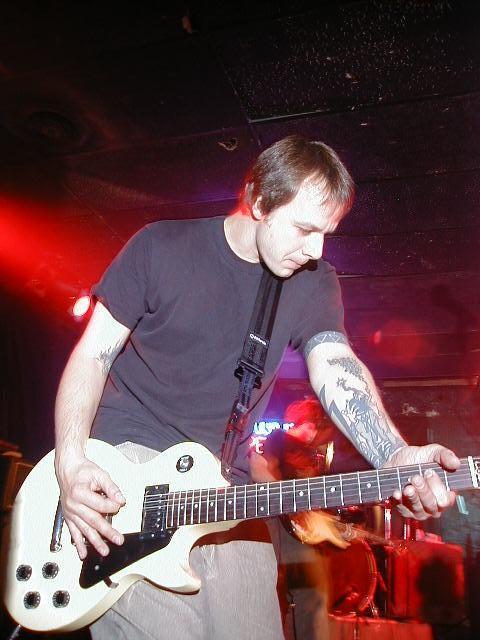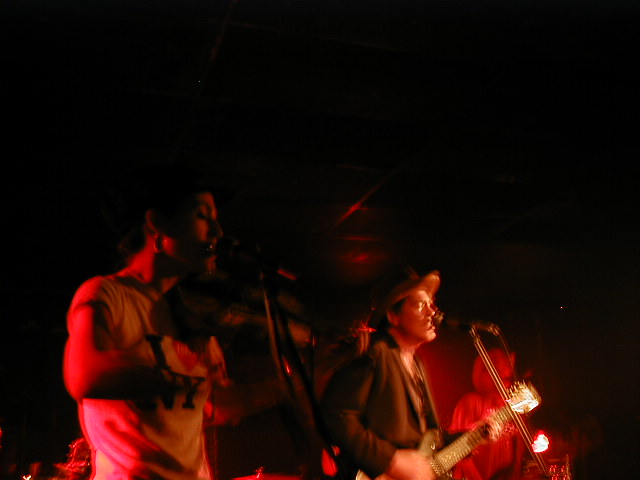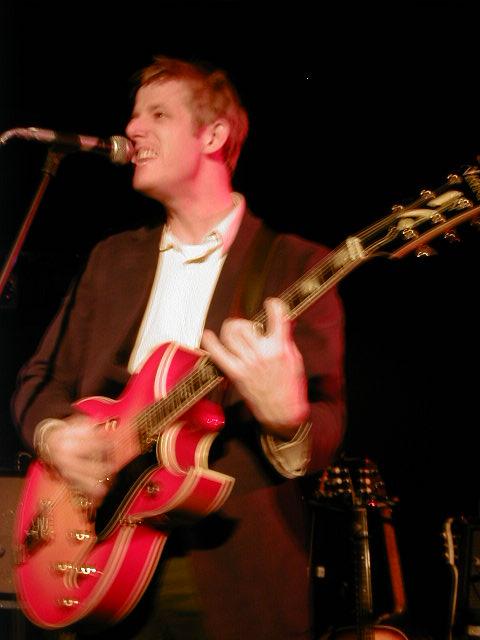 [more]
You never know what shows will sell out at the Bottleneck. There's an odd formula that I'm close to perfecting which involves the square root of fratboys in town multiplied by the number of songs the band has had on the radio as time approaches five years ago. My formula (soon to be patented as "The Bottleneck Theorem") however, was a little gray when it came to this show so I decided to play it on the safe side and buy a ticket before the doors opened. I got my ticket at 7:30 with no problems, however the folks at the door later said the show sold out. So lucky for me, I get to see the show, and I've acquired more data to help hone my formula.
Opening the show in the I've-been-added-to-the-bill, early spot was Britt Daniel from indie rockers Spoon (Matador/Elektra). Rumour is he was just in town for some reason or another (the start of KU basketball preseason?) and asked to play. I thought it might have had something to do with Spoon's new 7" on Saddle Creek based in nearby Omaha.
I appreciated Daniel's self-contained nature as he took the stage with only a duffel bag containing his effects bank and a powerstrip, his guitar and a cheap boombox which played a loose outline of the set in minimalist rhythm tracks. Despite the snare work from cassette, the set was live and defined by Daniel's jangly guitar pop. He played several Spoon songs (including The Agony of Laffitte from the new 7"), a few I knew were covers (one by Wire), and a few songs I didn't recognize that may have been from a rumoured upcoming solo album. Daniel's playful and bright mood lead to crisp vocals with excellent energy that reminded me of the best of Elvis Costello's early pop songs. Although the guitar work wasn't flawless it was always interesting and entertaining.
Those Bastard Souls took the stage before a rowdy crowd who had driven from all over Kansas and Missouri, Nebraska, Arkansas and even Texas. I hadn't heard (or amazingly even heard of) Those Bastard Souls but I immediately recognized David Shouse (vocals/acoustic guitar) from The Grifters and violinist Joan Wasser from The Dambuilders. The five piece also features ex-members of Red Red Meat, Jeff Buckley's band, and Shudder to Think - everyone has a pedigree. Shouse's years on stage has made him and incredibly sincere frontman that was both honest and a selfless entertainer.
The audience jumped, shouted and even sang along during the band's short upbeat set. Shouse said the only person who had ever sang his lyrics back to him before was his father, and joked that his father analyzed the lyrics in attempts to see where he may have gone wrong in raising him. Shouse's 60+ year old father analyzing song lyrics is a bit of a creepy idea actually.
TBS's live sound is grounded in roots rock but with the added element of noise and chaos (often provided by Wasser's violin and her host of effects pedals) takes the AAA genre to drunken highs and lows. The intentionally (though honest) rough-around-the-edges music lead perfectly into Guided By Voices' set.
Hundreds of excitable fans packed the area in front of the stage while Guided By Voice's crew adjusted microphones, cords and cables. They cheered as they caught a glimpse of vocalist (and only permanent member) Robert Pollard standing off stage (although he walked around the club earlier and hardly drew notice) and they roared when the band bounded onto the stage.
I wasn't expecting the rock star idolization from the normally detached Bottleneck crowd, although the band seemed to, and they worked the crowd for all they'd give. In that respect, and many others, I began to think that they might be the only real rock band alive today. For decades music fans have had to look for alternatives to find a true rock ethos, but Guided by Voices with their rock star posturing and posing, their perfect 2:30 pop songs played with intensity and fuzz and grit, and their drunken (and more) excesses, embody what America looks for in a rock band. If they were younger and good looking, and America still liked rock and roll, this band could rule the radio.
In the band's fifteen year history, there have been just about as many line-ups. This evening Pollard was joined by Doug Gillard (guitar), Tim Tobias (bass), Macpherson (drums) and Nate Farley (guitar). Although this line up has not been playing together long, each member has invested considerable time in previous incarnations. As a result the band was cohesive both musically and stylistically.
I'm not qualified to "review" the band's performance, or even to report which songs they played. I can only say that I've never seen an audience and a band feed off each other so much, and as each gave, the other gave more. I have seen shows where the band and the audience become one, where those lines are blurred, but this wasn't that way. The band knew they were on lit stage and there to perform and the crowd knew they were there to encourage and consume, but they did unite to revel and for one evening it was timeless.