Friday January 10th, 2004 at The Middle East in Cambridge, MA
Harris, Give, Jetavana Grove, & Sumo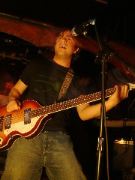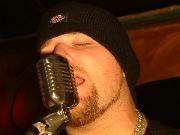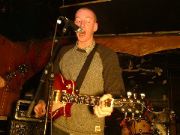 [more]
This has to be the quickiest show account I've ever written. I'm sorry, but that's just the way this one has to be. Get out your stopwatch. Ready? Well, tell me when?
--
I didn't think anyone was going to be at this show. Really. Sure, it was a Saturday night at the Middle East, but there were circumstances. First, school was not yet back in session and, thus, half of Boston was empty. Second, it was zero degrees outside with a wind chill making it much colder; no sane person would be out on a night like this. Third, the Patriots were playing at 8 o'clock in a playoff match up vs. the Tennessee Titans. Surely all of Boston was tuned in to channel four for the action. Finally, who the hell are any of these bands? A few I'd seen mentioned about town, but others were completely foreign to me. There wasn't a draw among them, especially at a $9 cover. Doesn't $9 seem like a lot for four local bands? It does to me.
I was wrong, of course, and shortly after 9pm the doors opened and dozens of folks were ushered through the proto-kitchen of the Middle East and into the club. I supposed the early crowd was there specifically to see the first band, Sumo, who went on at 9:30 as scheduled.
Sumo is a local five-piece of the two-guitar variety. While quickly (and that is the goal here) classifying the band is a bit tricky, I suppose they fall into that alternative metal category where things are heavy and loud, but dense and somewhat atmospheric as well. Sometimes the band's music is smart and heady ala Tool; other times the guitars are drenched with effects and hint at the psychedelia of Jane's Addiction. Unfortunately, none of it enthralled me. Furthermore, the band did little to attempt to capture my attention. Aside from the pacing and closed-eyed-convulsing of vocalist Dan Jenkins, the band was completely stationary. Each of the guitarists seemed scared or simply bored, while Jenkins was lost in his own world. During the rare occasions when Jenkins' trippy, twitchy dancing gave way to a more focused stage attack-and on the moments when he remembered the audience existed-the band's presence improved greatly. His quick trips to the edge of the stage, intently howling and hollering out at the audience, were captivating, even frightening. However, those moments were too few during the set. The band closed with "Like Machines Do," an uncharacteristically groove laden track featuring a riff so down and dirty, so swampy, it would make the stripper in Nashville Pussy blush. Could this have been the highlight? Maybe, if I liked that southern boogie stuff.
The vibe in the club shifted dramatically when the four members of Jetavana Grove stepped onto the stage. The aloofness of Sumo was quickly replaced by the conversational, if not drunken rambling, nature of Jetavana Grove's vocalist/guitarist Josh Egan. Once the band's gear was assembled, configured, and tested, the audience hushed and Egan stood nearly silent at the microphone. With a goofy grin, he began with a story that went something like this: "Have you ever got drunk and woken up in a car, and you're like 'Holy shit I'm in a car!'? Well it's worse when you wake up and you're on stage and everyone is staring at you." While Egan was obviously "relaxed," his band was tense and urged him to start the song. This trend would continue through the set. In fact, the rest of the band was quite obviously embarrassed by Egan's behavior. Bassist Dan Rackauskas actually begged Egan to abort a joke he began telling the audience, and for a while it seemed as though he had won. That is, until Egan quickly snuck in the nonsensical punch line after the following tune. Although the band may have been mortified, the audience ate up the interaction. After all, everyone loves a drunken kid. Maybe not a lesson for Sumo to learn, but the circus on stage did captivate the audience, leaving them ripe for Jetavana Grove's acerbic yet emotional indie rock.
Those familiar with emo's original incarnation (quickly: a genre born from hardcore and having nothing to do with the current crew of pop bands who now own the label) are likely to find nothing new in Jetavana Grove's music. In particular, guitars rise in choruses and fall for verses, while distorted chords generally punctuate clean leads. A rhythm guitar saws as much as strums a single chord, building in tempo and intensity until-STOMP-it erupts into a chorus worthy of stage dives and dances that feature frantically swinging limbs. The drums and bass build songs quite transparently, never taking the spotlight, as was often the norm. What's left? Oh yes, the elephant in the room. Paragraphs could be written about Josh Egan's vocals. They're out of control like a scream, but not shouted at the audience; spat would be a more apt description. They're jarring and shrill and thin, and cut into you. They're slightly swallowed, but they buzz like a guitar. They make the hairs on the back of my neck stand up. And I love them. If a new musical direction is your definition of success, Jetavana Grove fails miserably. However, for those who miss (or missed) the genre when it was still rugged and enthralling, please find your way to the next Jetavana Grove show – they have mastered the art form.
While Jetavana Grove was a pleasant shift in attitude, local foursome Give returned the evening to its stuffy beginnings. Again, the band members were serious, seldom talking to the audience, and only addressing the crowd in tried and true stageisms when they did. Vocalist/guitarist George Tsiaras looked the part of a rock star, or at least like a member of some counter-culture I have no bearings on. A large "School of Hard Knocks" t-shirt hung down over larger Jnco-styled jeans with the trademark stovepipe flair. His arms were tattoos, his head covered by a Dickies knit cap, and his thick neck draped in gold chains. If looks were any indication, this was not going to be a band for me.
As luck would have it, there was truth in packaging that night. Give treads in that realm of post-grunge bands I just don't know. Do they sound like Deftones? Maybe? More like Candlebox? Gosh, I wouldn't know. How about Godsmack or Staind? Again, sorry. I can say that the band's music is built on big crashing choruses that take full advantage of the band's dual guitar attack. And it banks on long anguished vocal lines delivered from an anguished singer who is capable of moving from a pleasant and powerful singing voice to effective screams. Beyond that, Give remains a mystery to me, and I prefer it that way.
To be fair to the show's promoters, the evening's lineup spoke quite well to the relative size of each band; it did not, however, take into account the stylistic variances of the performers. While one hopes a lineup like this ensures that the kids show up early to support their friends and stay late to see the headliners, it can often lead to a bizarre seesaw of styles, tones and moods. As such, the evening's pendulum swung once again from the metallic tones, back to those of jagged indie rock when Boston's Harris began the evening's final set.
The band planned to start its set a little after midnight. Although this ensured Patriots fans could watch the end of the game and then come to the show, it also meant anyone planning to utilize public transportation to get home would probably miss the band's set. It turns out that one group balanced the other, and while a number of college kids did slip out early, Harris' core of support showed up late to replace them. At 12:15 the audience numbered about the same as it had all night – just about a hundred. I imagine over 150 patrons had come into the club over the course of the night. Of course, now I'm giving you too many details, quickly, quickly I should move on.
When the time was right and all the keyboards were finally soundchecked, Harris launched into "Selling Dirt to Deadbeats." This song begins with a staccato, stomping guitar line that slowly winds to a soaring chorus before ultimately descending into a din of chaos. Both guitarists Matt Scott & Jon Day bounded around the stage, with Day often tossing the guitar behind his back or playing behind his neck, and Scott literally bouncing off the wall of the club. The band's energy was intense and immediate, but not sustainable. Thankfully, whenever the band was visible winded, the audience of friends and fans kept the energy level in the club high – even filling the normally silent gaps between songs with their drunken hoots and calls.
While many of the band's fans shouted out requests for long-forgotten songs, fans new and old agreed upon "Literal." "Literal" is an older song, re-recorded for their latest CD and serves as a signature piece for the band. Although weighted heavily towards the pop end of the band's catalog, the song is upbeat and snappy with gratifying synthesizer swells in every expected place. An unexpectedly crunchy breakdown dominates the end of the song and introduces the frenzied backing screams of Mike Scott. Later Scott's screams would take the lead on the wrangling hardcore track "Burn This Mother Down."
Forty-five minutes to an hour later, Harris completed its set with an awkward and arty number. Such a complicated track left those still sober wondering what it meant, or if the song had ever gotten to where it was heading. Meanwhile, the drunks (the latter outnumbering the former) accepted it all in stride, never questioning how a band can build such complexity into songs that are, at their base, no more than the pop-based emo of recent years. Vocalist (and bassist) Mike Nastri sings pleasant pop songs, but the off-kilter keyboards and synthesizers of Jim Reid counter it all. With only one guitar, this might simply be another quirky indie rock (or pop!) band, but the second seems to complete their unique vision. Because of this guitar, there's always more power, more underlying tension than sweetness in the band's music. I still haven't figured out how it works, but it does – often in spite of itself.
--
Gosh that wasn't very quick after all, was it? Yeah, don't worry about the stopwatch; I know this wasn't a record.