Friday January 7th, 2000 at El Torreon in Kansas City, MO
The Hillary Step, Proudentall, Annie on My Mind, & Boyfriend Hero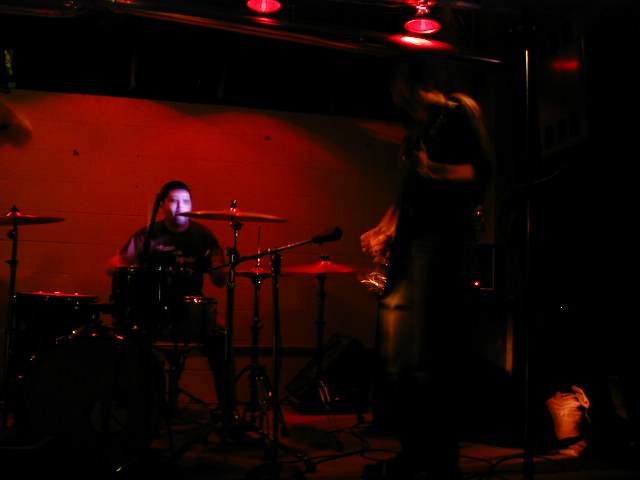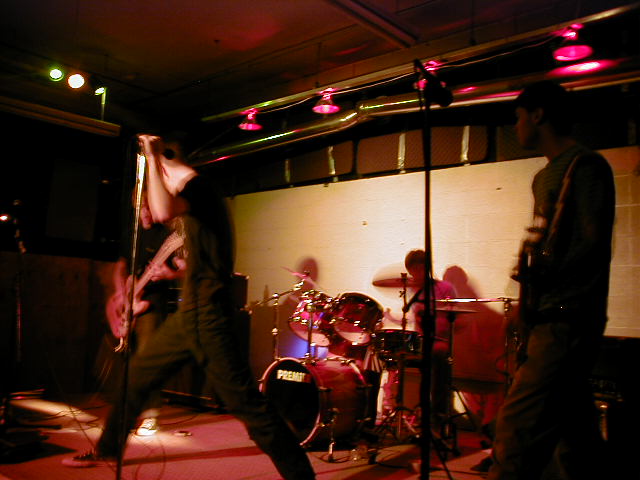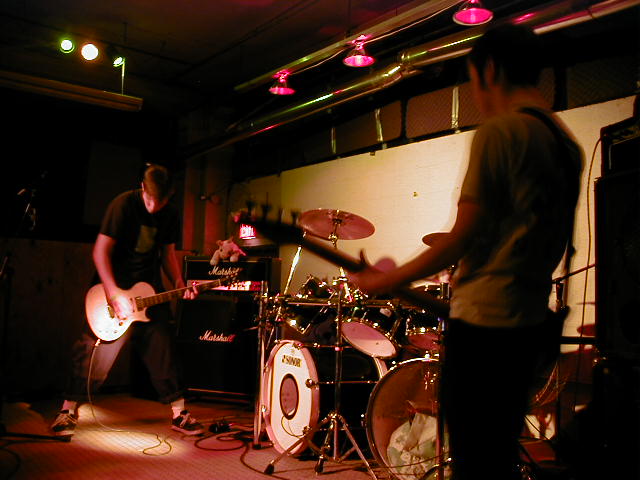 [more]
Kansas City hasn't had the best of luck with all ages club. The Daily Grind had a great run in 1996, as did The Fusebox [We fuckin' rocked! Where were you?] in 1997 but both were slightly less than legal and the fun didn't last. In 1998 the suburban punks collected money for a collective that never happened, and a different set of suburban punks tried to set up a collective in a warehouse downtown, but after policed busted a rave there for a lack of permits, that ended that. In 1999 Kansas City seemed to give up and accept that Olathe's Gee Coffee would be the only all ages club (even if it did book only local high school punk bands and draw only pre-teen suburban kids and their cigarettes).
But this is 2000 and El Torreon has all the necessary permits and a building that once housed Kansas City's preeminent 60s show palace, The Cow Palace [at least that is the rumour, a little searching on my end has turned up little evidence]. This warehouse space has been used for raves for a few months, but this was only the second live music show for the club – and the first on the new stage with the "new" PA (the mains actually came from Lawrence's last all-ages club, The Outhouse).
The club is cavernous and there seems to be an unlimited number of rooms on the first floor alone. The room which contains the stage has been limited with some dry wall but it still could hold three hundred easily and with the concrete walls and floors, sounds like a cave too.
As I walked over to the club (after parking on the wrong corner) I was met by Special Kid Brett who thanked me for coming to check out his band. Brett as I mentioned, is "special". He has approached me many times to join various bands he's wanted to create and every time I showed up with amp and guitar and every time one practice is all that the organisation he could muster. That is why I was utterly flabbergasted when I heard Brett Ray had put together a band that actually learned songs and was ready to play shows.
Brett Ray got the audience's attention with a few untimed screams and the rest of the band followed with a noise of their own around 8:30. The five songs of Boyfriend Hero's set combined emo, hardcore, punk and even some old fashioned rock and roll to create songs with interesting moments and real heart. Brett Ray's screamed vocal delivery was surprisingly good and his performance and energy were entertaining as expected. Rory's guitar parts were imaginative until it came to his solos which just fell flat. Their drummer worked hard to play his giant kit but instead came across as uninteresting and sluggish, their bass player faired similarly.
The PA died MANY times during their set, and Brett even broke a cheap microphone but it didn't seem to phase him. With basically no monitors, he probably didn't even know. The audience watched out of curiosity but I think a few of them may have been won over.
Although Annie on My Mind's name may not ring a bell, you may remember them as the Ritalin Kids (evidentially that name was already taken). In a rare gig not at Gee Coffee, Kansas City proper was treated to the energetic punka rocka from the four fine lads from Kearney MO. They peaked early in the set opening with their hit single Big Tittied Women Don't Just Fall From the Sky, Y' Know and from there you just can't go anywhere but down.
Actually is isn't all that bad. You have to accept the pop punk genre is going to be populated by high school kids, consist of three chords and contain juvenile lyrics – it's just what pop punk is. Once you accept that truth and move past it, you'll notice that pint-sized guitarist Ashley Miller is actually pretty expressive and he certainly plays with intensity, and that vocalist Steve Orth is a wonderfully geeky frontman (think Reverend Norb or Pete Oblivion) with all the right poses, jumps, and mic stand pole-vaults. And it is hard to knock a vocalist who will jump offstage, run around and sing to the audience members when the PA dies.
Billy Ning and John Cruz from Proudentall showed up in the middle of Annie's set with a very sick Matt Dunehoo in tow. After mixing his cold medicine with a little drink, Matt's cold took a turn for the worse forcing him to have a lengthy conversation with his doctor. As you can probably deduct, the band was lucky to make it to the show at all. To add insult to actual injury, the high school kids (the majority of the audience) were all filing out to make it back to Shawnee by their 11pm curfew.
So with only a few dozen people left the in an enormous room, Proudentall did their duty and played a short set that began with PA problems and ended with a broken guitar string. The sound guys attempted to mic the drums and amps which made the sound painfully loud and generally muddy. Matt's vocals were buried, and his normally jagged guitar was so fuzzed out that even songs that I've heard live a dozen times were nearly unrecognizable. There was no soaring indie rock, no lurching bass lines, it was all buried. Unfortunately nearly everything about their set was a disaster through no fault of their own.
During Proudentall's set an interesting audience swap happened where the kids who filled the club earlier left, and an older crowd trickled in. While The Hillary Step set up, I circled the club to try and convince the remaining audience to stick around, and for the most part it worked. After hearing the PA disasters thrust upon the other bands, The Hillary Step elected to only use a vocal mic, which turned out to be a great idea The band's small amps still filled the concrete room but with the PA dedicated to vocals alone, the mix was great.
The band's tight, straight-forward set didn't take time to deviate or experiment much, and I swear I had heard drummer Danny Mac play those fills before. Actually the set was entirely low key with the feel of a house show more than a performance at a club. Their set list was similar to previous shows featuring songs from the CD, the demo and the new still-unnamed percussive song. Their complicated songs twist and turn but they never loose their heart. Brad Hodgson's voice was powerful and emotional, particularly on the new track when he abandons his guitar and in full voice and with eyes closed tight, he reaches out his arms to grasp something too big to see.
After their set ended, the club cleared out pretty quickly and I headed to Winstead's where Brad and I got hit on by high school girls. Score!