Sunday April 28th, 2002 at The Hurricane in Kansas City, MO.
Houston, Dirtnap, & Fern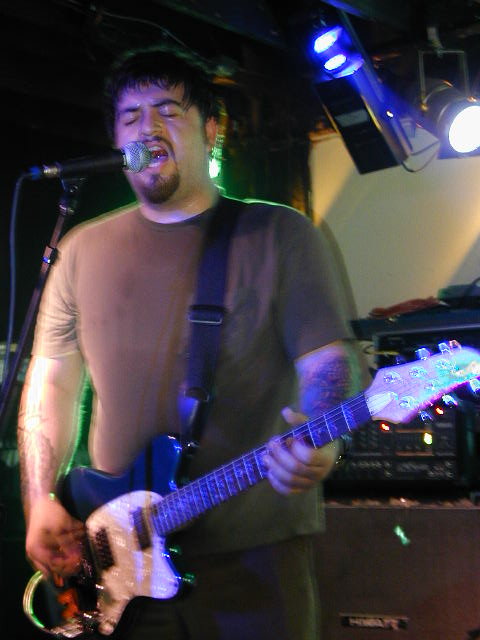 [more]
It's hard to recount the events of shows that happened weeks ago, especially when four or five shows have probably happened in the meantime clouding my memory. This show however was only two days ago. Was I there? Was I asleep? Was it really that homogenous?
I hopped on my scooter around 8:30 to pop over to the club. A mix-up didn't get me on the guest list so I paid the $7 and stepped into the doorway of club. Before I could get in I was stopped dead in my tracks by a stranger asking/asserting "Aren't you that kick-ass photographer?" Me? Uhhhh yeah? My own hype had preceded me and with the admirer's assistance I was refunded the cover charge and ushered into the club. "I'm the king of Kansas City; no thanks Omaha, thanks a lot."
The evening's opener turned out to be quite the wagering event. I had read The People (which enticed me out on a Sunday night), I was told Proudentall by the club before heading out (which confused me since I had been told the band broke up), and ultimately it turned out to be Fern (which, well yeah). Fern are a tough band to peg. I wonder if they're a rock band. I'm just not sure I'm qualified to bandy that term about. Don't you have to work for a radio station tagged "The Eagle" or "The Fox" to apply that label? Their songs have fairly standard constructions with verses and choruses and guitar solos and such. They're a four-piece in a standard way though I understand line-up changes have taken them all the way down to a duo as recently as a month ago. Hmm what IS interesting about this band? Oh yeah they have a song called (We Want to) Rock and Roll which, like Kiss's Rock & Roll All Night, contains few other lyrics. But is it interesting? No.
So Dirtnap. I believe it was nearly three years ago that I saw the final Dirtnap show at the Hurricane. After innumerable line-up changes and countless moves, the band are back and thus the Kansas City sound lives on: dense music, angry guitars, angular arrangements, rock gusto, and, in the case of Dirtnap, a bit of expanse and beauty. I think it may be rock. The band seemed grateful for the loyal fans (though there didn't seem to be many new converts) and played a set consisting of both old and new tunes. The new tunes were recorded initially in 98 though set to be released this year. Gosh what else? Nothing.
Headliner Houston (like the city, not the street) is Kansas City's favourite adopted local band. They have earned that status by spending more smoky late nights on Kansas City stages than they do in their home state of Minnesota. Like a local they draw a consistent crew of fans, as well as a set of passive onlookers like myself who generally enjoy the band, but know we can see them next month if it's not convenient to go see them this time around. Curiously it is a safe bet that where Houston can be found, so can Shiner. Although incredulously Shiner did not share the Hurricane's stage on this night, a healthy percentage of the band did show up to support their mates. The relationship thickens further when you note that as if through osmosis, Houston seems to have appropriated a good deal of Kansas City's sound through this association. Certainly all the qualities mentioned in association with Dirtnap also apply to Houston; if anything, Houston takes them to hyperbole.
Where as Dirtnap may create a moody intro, Houston creates an epic driven by bass player Lane Soderberg whose pedal board is larger than that of David Guame of Stella Link and Jason Shields of the Capsules combined. Does that mean Houston is space rock? Nope, just very concerned with tone. How else could you explain Jeff Halland's need to play four different guitars live? So while this band may be the new face of rock (for the band takes few of the chances necessary to be called indie) they do it in an intelligent and thought-provoking way. Maybe we need a station called "The Edge" or "The Buzz" to label the band.