Tuesday June 25, 2002 at The Hurricane in Kansas City, MO
The Idols & Moxie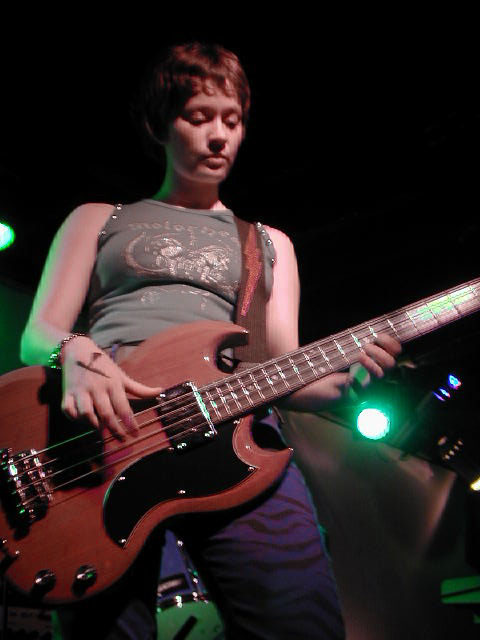 [more]
Moxie sent me their demo about six months ago and after a few disappointing listens it found its way to a pile of purgatory CDs. These are CDs that I would feel too guilty throwing away, but yet aren't good enough to earn a home in my (or any of my poor unsuspecting friends') record collection. Never the less when two members of the band separately contacted me to come to the Hurricane and check them out live I happily accepted. Additionally mystifying, I had high expectations. Everything was in place for a major let down and the awkward conversations with band members looking for flattering feedback that were sure to follow.
At 10pm (no more, no less) the band stepped onto the stage and began their eight-song, forty-minute set. Several members of the band were last spotted in Red Letter Day although Moxie has worked hard to dispel any notions of a punk rock revival. I'd heard it pounded into the ground that Moxie is an indie rock band. The demo kinda sounded like it might be. Live, I wondered if the transformation would be completed.
In less than an hour a grand transformation was accomplished – Moxie went from a band whose CD I couldn't give away, to a band whose CD I wouldn't want to give away. Although describing the band as indie rock would be an incredible stretch, it would be an outright lie to call them punk. The band exists in some sort of self-defining category that is part pop (including some fairly sweet ballads, and moments of harmonizing voices), part rock, and a bit of quirk that couldn't be pinned on a genre as much as an influencing band: Le Tigre.
First things first, the band seemed a little nervous. True to form, Megan Kasten seldom looked up from her guitar, and in fact looked sullen for most of the set. Both Kasten and bassist Lacey Ellington seemed to be shy away from the spotlight, consequently their backing vocals were often sung four inches to the right of the microphone. At one point I seemed to be playing peek-a-boo with Ellington who didn't much care for the camera I had pointed at her throughout the night. Shyness aside, her bass anchored the band and generally carried the melody while Kasten's guitar provided rhythm through simple power chords. There was some rust the band needed to shake off and each player seemed to phase in and out of time on occasion. The shrinking violets were however limited to backing vocals. Vocalist Christy Pucci wanted attention, and she got it.
Starting with a singular wiggle dance that was the band's stage show, climbing up the go-go boots past the high hem on her dress, and climaxing with the engaging ("who me?") smiles cast out into the audience ala Susannah Hoffs, Pucci caught the audience's attention and held on it. Her voice is a little tough to pinpoint as it moves smoothly from a ballsy full voice (ala Cinder from Tilt) to a more delicate timbre where it's truly her own. We'll never know which of the young guys standing up front were cheering for the band and which were cheering for the dress. I cheered for both.
The Idols were up next representing rock and roll pure and simple and prurient. Which for my generation means they are Jeff Dahl, they are Dee Dee Ramone and they are Johnny Thunders. I suppose that makes them both proto-punk and punk rock. It might just be the attitude and swagger of vocalist/guitarist Scotti Fletcher, but the band exudes all of the excesses of rock. Maybe it's not true but I like to think that after leaving the stage each member drank a bottle of Jack, did a line of coke and then had sex with a groupie or two. It's the Hurricane so I'm sure all three are available within arms reach.
The Idols' set of dirty rock wrangled a good majority of the often-unresponsive Hurricane audience and the drunker spectators were even seen dancing at a spot or two. Near the end of the set the band slipped in a couple of crowd-pleasing covers including The Who's "I Can't Explain" and "Do You Wanna Dance" by Bobby Freeman (although The Idols played it as The Ramones covered it). I smiled vacuously through both covers and mentally thanked The Idols for reminding the dance floor at The Hurricane what rock & roll is and why it ever mattered.