Thursday March 6th, 2003 at The Middle East in Cambridge, MA
Kadane Brothers, Binary System, Clint Conley, & Milo Jones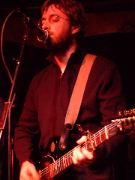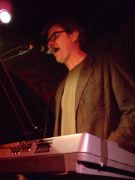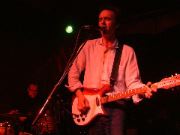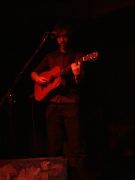 [more]
I bussed into Cambridge to buy a ticket for the show several days in advance. My reasoning: surely if The Blood Brothers sold out, an evening featuring members of Boston's own Mission of Burma would. After all, a legacy built by Mission of Burma and The Pixies had ever so much to do with me moving out here. Of course, in keeping with the rock & roll adage that no one is popular in their hometown, when the doors opened at 9pm, I alone was ushered through the proto-kitchen of The Middle East and into the upstairs club.
At 9:15 I was sitting on the edge of the stage cursing the snow-wet cuffs of my pants. A dozen others lurked in the shadows, quietly nursing beers and discussing the new corporate email policy at their places of work. When a ragged man with a more ragged mustache walked onto the stage holding a guitar, I slipped down sheepishly and retreated into the shadows with the others.
Of course, I had no idea the man was Milo Jones, largely because I had (and to some extent still have) no idea who he is. The solo singer/songwriter seemed to have a soul akin to Nebraska's Bruce Springsteen, or even Richard Buckner; however his delivery was brighter, and his subject matter less somber, less grandiose, and certainly more obvious. The deeper sentiments of human existence weren't hinted at through metaphor, but simply illustrated by the daily mundane. A song about thrift store shopping is really about thrift store shopping – what the listener takes away from it is based on his or her own empathy and familiarity with the subject of the song.
The audience continued to arrive late into set, which meant the most fashionable missed Jones's cover of Johnny Paycheck's Pardon Me, I Have Someone To Kill. His cover was so honest and unassuming that I went out the next day and bought the original just to hear what might have been Paycheck's humble narrative, versus what was Jones's sincere delivery.
By the end of his half-hour set, the audience had swelled to over fifty. The audience members themselves could have been over-fifty as well. The median age of the show was roughly similar to that of the performers. A little math (based upon the knowledge that Mission of Burma's Signals, Calls & Marches was released in 1981) reveals that the audience probably wasn't fifty, but most had already opened a card reading "Lordy Lordy Look Whose Forty."
I had returned to my position seated on the edge of the stage while the nameless soundman moved about cables and microphones. Again, I was surprised when an entirely ordinary man in blue jeans climbed onto the stage holding a Richenbacher guitar. As I jumped up, Clint Conley assured me I was okay and needn't bother to move. Of course I moved; I'm just glad I didn't create a spectacle by bowing and averting my eyes in the process.
After Mission of Burma completed that mission in 1983, bassist Clint Conley vanished from the music scene almost entirely. For eighteen years he remained invisible (working as a production editor at a local TV station I'm told). In 2001 he returned to music creating a low profile all-star band called Consonant. However, this show, according to Conley, marked his first attempt at a solo performance. And still, there were only fifty people in the audience.
Conley's eight-song set was a collection of four researched covers, two reworked Mission of Burma tunes, and a couple of new songs – one of which is slated to appear on a forthcoming Consonant album. Most importantly, regardless of each song's origin he made it his own. Conley is known as a bassist, and as such wasn't entirely comfortable behind his guitar. Not only did my camera frequently catch him watching his fingerings, he would often strum open chords through the measures where solos ought to have been. This, of course, just made the performance more intimate. In time, however, he decided to enlist some help from a miraculous circle of friends.
Initially help came from Hugo Burnham (of Gang of Four) who joined Conley on stage during a slow, nearly resigned, but entirely heartfelt version of That's When I Reach for my Revolver. After adding backing vocals, Hugo climbed behind a waiting drumkit and provided percussion for the following Kinks cover and for much of the remaining set. Soon after, Roger Miller (also of Mission of Burma) climbed onto the stage to lend his support. Miller warmed up his keyboard by first playing light accent parts to Robert Wyatt's Sea Song, and later playing the thumping bass line in a riveting cover of Gang of Four's Natural's Not In It. Additionally, several times throughout the evening, Conley was joined by Matt Kadane (from Bedhead among others). Once, accompaniment was provided by a lo-fi portable cassette deck playing the undecipherable dialog of a Haitian radio preacher.
In a mid-evening finale, the above foursome was joined by drummer Malcom Travis (of Sugar). This allowed Burnham to belly up to the mic (quite literally as he is a large gent) for a sloppy version of The Mekons' Where Were You? Amidst earnest calls for an encore, the collective quickly slinked off stage. Can the second band of a four-band show play an encore? Sure, they can. The quintet returned to stage and after searching their shared repertoire, decided the only song they all knew was the The Mekons song they had just played. Give the fans what they want, so Travis clicked the band in, and once again the stiff Durnham led the band through Where Were You? Even as the band finished the song a second time, there were calls for them to play it again.
With the hullabaloo dying down, Roger Miller once again took his position behind the keyboard – this time joined by drummer Larry Dersch – as the experimental Binary System. Experimental can mean many things in indie rock; 87% of those things are bad, and a full 10% are worse. I was pleasantly surprised to find Binary System to be of the minority 3%. Although the arrangement and delivery of the band's music is quite unique, the music was comprised foremost of songs – songs containing elaborately composed structure and purpose, as well as a definite flow.
Despite Dersch's early trepidation at playing after such great drummers, it was his drumming that shone brightest. This may have been partly attributable to the space afforded to him by performing as a duo, but it's mostly due to his sheer ingenuity. Dersch's drum parts were entirely memorable, if not downright mesmerizing. So many hits in such a short time and where they all came from is anyone's guess. Supplementing the small drumkit, Dersch played his cymbal stands and other hardware to great effect. The result was a very tribal, percussive feel similar to that of pagan industrialists Crash Worship.
Never outdone, Miller's use of keyboards was phenomenal. It was hard to imagine such a variety of sounds coming from a single keyboard, or how one person could create so many contrasting sounds live. Tying the two players together, Miller frequently imitated Dersch's drums by pounding (actually pounding) out complementary rhythms on the keyboard's lower registers.
The band ended their set with a deconstructionist reworking of The Sound of Music from the band's 2001 album Invention Box. The structure was roughly the same, with similar melody and rhythm, but the arrangement was definitely from the duo's oddly skewed perspective. How might your favourite song sound if played entirely on garbage can lids and a fisher price harmonica? Suppose the song was played by professionals who were able to coax every nuance from the dented aluminum or molded plastic. If you're open to those sorts of suppositions, enjoy the urgent, off-kilter quirk of Mission of Burma, are comfortable in a Zappa-esque post prog-rock freakout, and can appreciate the primal urges of chaotic percussion, then you're going to want to check out Binary System. Of course, chances are that if you do fit that bill, you're probably already in the band.
Contrasting the commotion of Binary System was headliners The Kadane Brothers. Matt and Bubba Kadane rose to national attention with the slow-core minimalism of Bedhead in 1991. When the duo called that band quits in 1998, each stayed separately busy in other high profile projects such as Tortoise, Silkworm, and in Clint Conley's Consonant. In 2000 the duo began a new chapter of collaboration as The New Year. The New Year is a wonderful continuation of Bedhead. That is precisely the extent of my background knowledge on the Kadane Brothers. Oh, I guess I could add that The New Year's drummer is Chris Brokaw (previously of Codeine and Come) who, not quite so incidentally, drums for Consonant as well. You'd think this town only has 10 musicians in it.
I am not knowledgeable enough to give you the specifics concerning who played what and which might have originally appeared as a Bedhead song or on The New Year's latest album; however the music of the Kadane Brothers needn't be that cerebral. Even though the slow, thoughtful compositions may be alternately stark or awash in atmosphere, both have a direct honesty that resounds almost spiritually.
While many of the songs were clearly joint compositions with rehearsed and sophisticated guitar interaction created for a band setting, several of the songs seemed to specifically belong to either Matt Kadane or Bubba Kadane. I imagine these songs were originally conceived as solo outings, or possibly early demos being shared with the somewhat informal audience. Even of the polished songs performed, many had never been performed in such a setting, and many others hadn't been performed in nearly a decade. The brothers' performance shared this casual intimacy with Clint Conley's performance, and both only brought the audience deeper into the connected atmosphere.
For the final songs of the set, Clint Conley and his beaten bass guitar joined The Kadane Brothers. The slow and deliberate Kadane pace would have seemed completely out of character for the Conley of years past, but on this night Conley commented that his job was to "chill out for a long time and watch for [Matt Kadane's] head nod." Unfortunately, the sparse bass lines, consisting largely of whole notes lacking any complexity, added little to the song's appeal. Although the collaboration was welcome, it didn't approach the magic of the alliances consummated earlier in the evening.
As the group left the stage, I don't remember calls for an encore. I watched the group disappear into the audience of fans and well-wishers, and I wondered if there would be more. If I wanted to catch my bus I had to leave at that point, but if some configuration of players were to return to the stage, I'd have gladly sprung for a taxi home. Before leaving I wanted to thank Conley and Miller. I wanted to tell them that Academy Fight Song was my favourite song. I wanted to tell Burnham that Entertainment! was my favourite album. I wanted to explain how much those superlatives meant to an audiophile like me. In the end I just walked down Green Street to the cold bus stop and waited for the 64.
If this account reads as a conglomeration of unrelated artists from unrelated bands covering unrelated material, then I've not done my job. This was perhaps the most homogenous show I've seen in years. Each band spoke to a similar aesthetic despite the varying tools used to communicate that message. Together the bands comprised a family tighter than a simple group of musicians or even friends, something that TV commercials tell us can only be achieved when a group of attractive peers assemble in a park to play flag football as an excuse to ultimately nurse exaggerated wounds over a case of Bud Light. This show seemed real, unique, and both audience and band members alike seemed thankful to have participated in it. For me, it was the first step in validating my 1200-mile cross-country move.