Wednesday February 23rd, 2000 at The Hurricane in Kansas City, MO
Lushbox
Kristie Stremel Band
Electronimo
The Hillary Step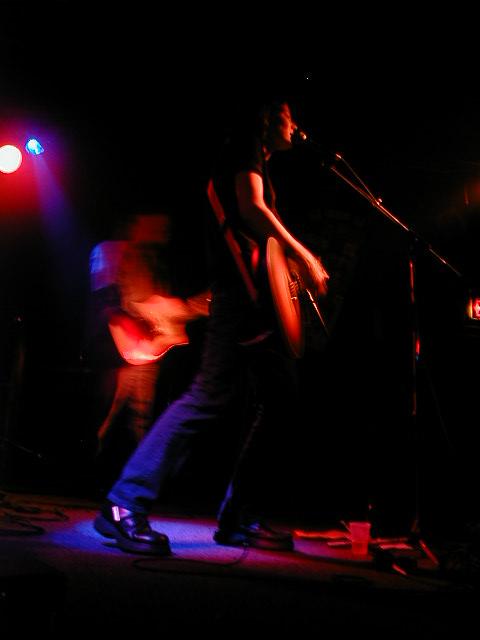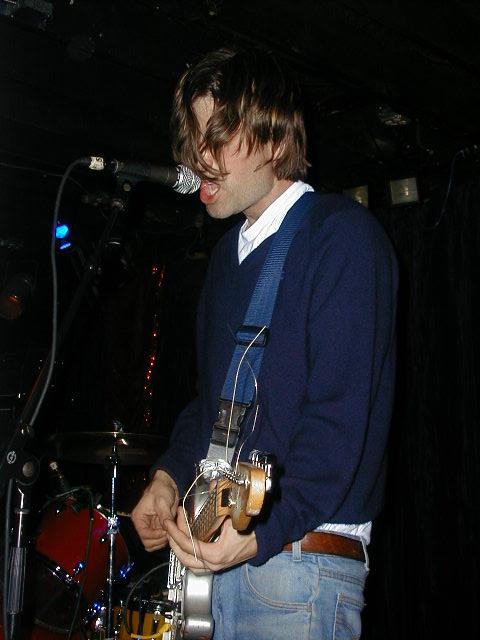 [more]
This is the story of the night the Hurricane booked two shows, and completely forgot about it. Electronimo & The Hillary Step were booked months ago and at the last minute Kristie Stremel & Lushbox were booked as a benefit for Yancy Graff. The first show was supposed to be cancelled, but wasn't, so both shows happened in one long night.
First, who is Yancy Graff? Evidentially she is a local rugby player who is going to China to play rugby, and some friends (Lushbox & Kristie Stremel) decided to play a benefit to raise some money for her trip. Neither The Hillary Step nor Electronimo had ever heard of her, or were aware when the booked the show that they were playing a benefit. To add insult, Yancy was totally trashed that evening. So either she was busy spending her benefit money on liquor, or her friends were busy getting her liquored up when she evidently had a bigger need for the bucks not related to the alcohol poisoning she was headed for.
The Hillary Step played a strong set to the several dozen folks who came forward to check them out, while the rest of the filling bar stayed back in the other room chatting per normal for The Hurricane. I brought this up to Brianne who countered that this wasn't the normal Hurricane crowd but rather "a whole bunch of lesbians." It's true, and I hadn't noticed. I guess if you're a rugby playing gal you're likely to have a friend or two that's queer.
Anyway, The Hillary Step's Brad Hodgson (singer/guitarist) is not the type of aggressive frontman who works to win over a passive crowd. The band tends to take a very laid back approach to their music, hoping the music can win over an audience. Unfortunately that approach that doesn't work very well at bars where the patrons aren't likely to give a band a listen unless compelled to. As such, their complex music doesn't make for very good background music and most of the club let the band's set pass without notice. Those who invested something in the band found the delicate music and powerful vocals very gripping. Maybe the band is just selective about their fans.
Up next were Electronimo who took a decidedly different approach to getting notice, one that involved volume and lots of it. The band's music centered around noisy and combative guitar bits that were occasionally buried under layers of pedal-driven feedback, blips, & echoes. At best it was gratifying, at worst it was indulgent crap – the line is finer than you might think. The dichotomy continued with a bass that was generally smart and supportive but occasionally covered in unreasonable amounts of fuzz and drumming that ranged from the adventurous to the incredibly dull. The vocals seemed to almost be an afterthought as they were tunelessly shouted through the noise. With a focus on songwriting and a better editorial ear for what is brilliance and what is tripe, this band could be dynamite.
The long noise sessions of Electronimo gave way to the long set from rocker-turned-singer/songwriter, Kristie Stremel. After shedding the Exit 159 moniker, Stremel has ventured forward with a varied line-up and a much more intimate delivery. On this night The Kristie Stremel Band consisted of Stremel and faithful sidekick Chris Meck both playing acoustic guitars.
The rowdy bar crowd came forward to see their friend and witnessed a set of catchy and well written AAA pop songs. Stremel's voice is strong and distinctive, however there is nothing new here, you've heard it all before and if you liked it then, you're sure to like it now.
Stremel brought up drunken Graff to sing a song (drunk people love to sing and dogs love trucks) but Stremel gave up on her after playing the beginning of almost a dozen songs, none of which seemed to ring a bell for Graff. For the friends and revelers this was entertaining, for the rest of us, it was pretty darn dull.
It was late when Lushbox took the stage and the club's DJ was already eyeing the band who were standing on the spot where he would normally be setting up his equipment. Lushbox began the set with loads of energy and the feel-no-pain audience flocked to the front of the stage to dance along to the poppy songs. Lushbox demonstrated a mainstream appeal which I generally don't see, and dancing fans which never happens when the band plays to indie rock audiences. Legitimate music fans be damned because a room of bouncing bar-goers can make a show even if they don't know the difference between a Les Paul and an SG.
The set moved quickly and touched on new material as well as all the songs from their first ep. It was well after cut-off time when the band announced they would only do only one more song, but after the urging of the audience and the reluctant remittal of the house soundman, they played a second and then let themselves be quickly assimilated into the carousing crowd.
2:15 is awfully late to be out on a school night so I slipped out without saying my band good-byes in search of my car and eventually a pillow.