Wednesday March 23rd, 2003 at The Middle East in Cambridge, MA
The Oranges Band, Auto Interiors, Palomar, & The Motion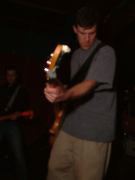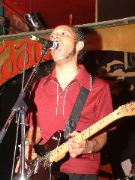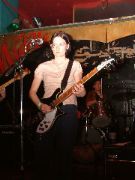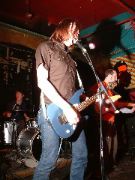 [more]
These things need to go quicker. Five shows a week. Four hours at each show. Eight Hours to tell my side of the story. That's sixty hours a week. I've got a fulltime job here. At some point I'm going to be gainfully employed again and then where will you be? Yeah. I need to be quicker (and unfortunately less detailed) about my show accounts unless I can find a patron.
After a meal of mixed successes at Steve's on Newbury Street I caught the #1 up Mass. Ave into Central Square. The doors wouldn't open for an hour, but since I have no friends in the area, no money to shop with, had just eaten, and it was too cold to just walk about, I just slipped into the club and slinked down the wall with a book in an attempt to be as invisible as possible. When the time seemed right, I approached opener The Motion and asked if they had room on their guestlist for a poor journalist. With little convincing I secured a slot and saved $9. The band's only request: "Just write about us."
The Motion is a three piece from Chicago traveling as a four piece. Understanding what scene the band belongs to is difficult. Neither their clothes nor gear give it away. There are no telling stickers or distinctive haircuts to tell the story. Furthermore, the band's music provides few clues. Traveling equally well in noisy indie, hard rock, & punk aggression, the true answer to the band's genre loyalty may be easy – they have none.
Throughout the evening guitarist/vocalist Brent Larson hid behind his long, oily hair, only looking up from his microphone during the rarest of occasions. Similarly, bassist Jonny Motion (Rosenfield) failed to face the audience anytime during the evening. Only hired guitarist Jay Dandurand showed any motion in the evening, and even that was minimal. Dandurand's largest differentiator was simply his style of play.
Dandurand held the guitar high on his chest, preferred a more technical and varying style of play that caused conflict with the rest of the band. When Dandurandshifted to cover rhythm while Larson shredded through metallic leads, songs seemed stable and focused. When Dandurand was given less guidance, however, the songs, and the band, didn't click.
While The Middle East is unquestionably one of the nation's premiere venues, I doubt I'll ever understand its booking strategy. Four band bills keep set times appreciatively short, but when the show runs late, the club's extreme measures to return to the posted schedule are draconian. On this night Palomar fell victim to the club's rush, and it was the audience who suffered.
Palomar is in the midst of the most grueling non-tour imaginable – after each night's show the band drives 3-5 hours back home to Brooklyn, sleeps a few hours, and then heads into work. After a full day of work the band returns to their Dodge Ram and heads off to another venue. Remember the sleepless stress this must create, it'll be important later.
Despite a relatively quick setup, it wasn't but two or three quick songs into the set when the band was told their time was running out. Vocalist/guitarist Rachel Warren seemed shocked, but rather than argue, she consulted with the band and announced they'd play one more. Countering, the sound gal told them they had additional time, which seemed to disappoint the band at that point. Even after playing a begged-for one-song encore, the band's set was unacceptably short.
I'm a fan of short sets. Honest I am. Fifteen-minute set times are always appropriate for opening acts. You climb onstage, rock an audience who has never heard your name before, and then get off the stage leaving the audience stunned and wanting more. The audience only hears your best songs, they think you're great, they buy your CD, they tell their friends, and they come back to see you the next time you come to town. This should be the goal of all opening bands… well, all opening bands but Palomar. But then again, Palomar shouldn't be an opening band at all.
The four members of Palomar blend tight harmonies, irresistible bounce, and a sloppy fun naiveté in creating their homage to Cub, Go Sailor and the other popsters inhabiting K, Mint and Kill Rock Stars Records. Like The Smiths and their often saccharine Morrissey, the band's sweet melodies were juxtaposed with the biting attitude of witty and wry frontwoman Warren. She subtly expressed her dissatisfaction at the situation the band found itself in, and for those paying attention to her intonation and body language, there was an entire second show full of clandestine communication.
As further insult to my personal injury, locals Auto Inclination wasted the thirty minutes following Palomar's set casually assembling gear and tuning guitars. When the band had fiddled with everything that could be poked, they looked up at the soundgal and announced they were still ahead of schedule. How is that possible? Is there no god?
As if I hadn't given it away already, Auto Inclination was a sad let down and a dull spot in the set. Drawing from the same dirty rock esthetic as The Motion, the band played everything to the status quo. I actually have nothing else to say about that band.
When Auto Inclination had completed its set, I had to rouse myself from the conveniently placed bass cabinet that had become my tired ass's sanctuary. As I made my way to the front of the stage, I hoped I hadn't been spotted brushing off the uninterested stupor and unsuccessfully fighting off numerous yawns. The Oranges Band, I thought, should pick me up.
While the snap and pop of The Oranges Band was certainly more enthralling than the dirty rock preceding it, the band just wasn't able to live up to Palomar's charm. Songs are tight with nice pop appeal balanced with a certain straightforward rock that can be quite charming. Whether it ever gets revved up enough to be called punk is up to Lookout! and genre whores to debate. However – to fuel the fire – the guys just seem too nice to rage against anything. As a result, I was a little bored with a set that probably just seemed expansive.
As I was packing up my camera and simultaneously heading towards the door, I noticed my evening's benefactors standing idly by their gear. In a fit of guilt (as if the hours of my life and dozens of photographs were not payment enough) I asked the band if they needed a place to stay. This sentence would then seal my fate for the next two hours while gear was loaded, bands were paid (or barely paid as I learned), vans were packed, and celebratory pizza was secured. All said, the guys were pleasant, intelligent, clean folks, and none of them stopped up any of my toilets. That, as anyone who hosts bands knows, is the measure of a successful sleepover.