Saturday February 1st, 2003 at The Middle East in Cambridge, MA
Rainer Maria, Mates of State, The Ivory Coast, & Owen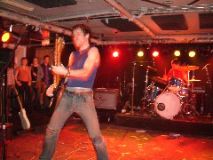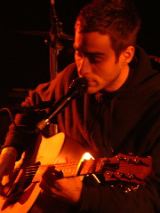 [more]
Dana and I met up with Matt at Union Square and took the 66 into Harvard Square. From there, we took the red line down to Central and popped up near the Middle East. Although I had designs on a falafel sandwich from the restaurant, the club already had a line out the door and around the corner. This meant I couldn't waste time with petty things like nourishment. Matt was insured entrance via The Ivory Coast's guestlist, but Dana and I weren't so elite. We had to either bluff our way onto a guestlist, or hope the club would open up a few last-minute tickets to this sold-out show. Despite waiting in the cool, wet air for too long, we did get in eventually so all was swell.
Even though this was my first time downstairs at the Middle East, I didn't have much of a chance to look around. Instead, I instinctively camped out as close to the stage as possible, and prepared to stand in the same hot, cramped, and stuffy space for the next four hours. Luckily, I have a palm pilot with Scrabble and Cribbage to keep me occupied. Yeah, I am that schmuck.
While waiting for Mike Kinsella (previously of Cap'N Jazz, Joan of Arc, Owls, & American Football, now performing solo as Owen) to sit on the prepped chair that rested in the middle of the stage, I had a chance to analyze the crowd. I'm old. Even at an 18+ show, everyone looks positively infantile and sound even younger. Their conversations, so inane. I, so grumpy.
A little after 9pm, Mike Kinsella walked onto the stage with only an acoustic guitar. Without introduction, he sat down and began a set of songs comprised nearly entirely from his new album. Mostly somber, if not sad, his songs focused on the awkward and tender starts of relationships as well as their painful and inevitable demises – Kinsella didn't make room for anything in the middle. Even if new love and love lost are the world's most clichéd topics, Kinsella has a keen eye and a sharp tongue which make his chronicling songs interesting. The addition of his light, thoughtful finger picking provided a tasteful backdrop for his heartfelt narratives without ever stealing the focus. After completing a loose cover of the Lemonheads' Drug Buddy, Kinsella fumbled around with a few chords then abruptly announced he was done. With that proclamation, and his hand grasping the neck of the guitar, he walked off the stage.
Once the sound person removed the vacated chair, the stage was set for Boston's The Ivory Coast. Although I can see how I might learn more about the band in the coming months, the quartet, for now, is largely a mystery. To be blunt, the band is indie. Indie in that new indie way which doesn't seem to have come through emo or hardcore or punk, but was instead born directly from the collective indie consciousness. There are twists and turns (particularly in the newer songs) and things lurch in pretty expected ways. Although the two guitars work to maximum effect, the under-utilized keyboards and synthesizers seem somewhat unnecessary. The synthesizer provides pointless chirping accent noises while the keyboard creates additional buzzing, low-end fullness. Until I have a chance to see them again, I'll be content to think of the band as a more obvious Dismemberment Plan or a poppier Ted Leo & The Pharmacists.
While Mates of State's equipment was assembled at the front of the stage, another similar migration was underway. This one was far more violent and secretive and consisted of pushing, wrangling and manipulative pleas from cute twee girls all intent on pressing themselves up against the stage. With camera in hand, I was determined to stand my ground – not that it's difficult for a fat old man like myself to restrain a score of five foot tall coeds and waifish teenage indie rockers from private universities. When the crowd reached equilibrium, I found myself in the second row, shooting over a grrl who couldn't have been but 4'6". That's nearly an ideal situation…that is, if you're going to be stuck in one place for and entire evening. For the next twenty minutes, I was regaled with stories of shows attended, shows almost promoted, and upcoming house shows that no one outside of a small circle of friends will ever hear about. As pointless as all that sounds, it's the language of our culture and I spoke it exclusively for many years. Standing there, it was only interesting for its voyeuristic qualities and as background noise while I charged through a dozen games of Cribbage.
Although Mates of State wasn't scheduled to go on until eleven, their minimal gear (only Kori Gardner's keyboard, and Jason Hammel's drumkit) was set up quickly and the band began a satisfying set consisting of material equally culled from each of their two albums, as well as four or five new songs. As I've already written about Mates of State and their quirky, shifting approach to memorable pop in the past, this time I'll focus on the variances.
Specifically, I want to focus the new songs played and how they seem to be quite different from the previous ones I hold so dear. From my cursory listen to the new material, it sounds like the band may be bored with their current formula and image (more on that in a bit). The keyboards in the new material weren't bouncing embodiments of pop melody, but rather repetitive, complex chords, which groaned with weight. Melody was left to voices which, although charming, could never compete with the new brash keyboard sound. In the past, I've left shows singing (or mis-singing) refrains of new songs, but nothing stuck this time. Am I worried?
Additionally telling might be an exchange with the audience early in the band's set. From somewhere deep in the audience a voice shot toward the band exclaiming "You two are so fucking cute!" Hammel shook his head dismissively while Gardner piped up correcting the zealous fan, "See, have we such a wholesome image, and it's just not true." She continued on, confessing "Jason bought a porno today." To which he added "On DVD." I wasn't sure if that addition was meant to soften the blow or further illustrate their point, but, either way, the exchange seemed to indicate the duo's dissatisfaction with a near-bubblegum image. I've seen enough VH1 to know the warnings signs of a teen idol's revolt. Will the next album make that statement for the couple? Should I be worried?
Again, the scant gear was cleared quickly from the stage revealing the back-lined equipment belonging to Rainer Maria. Having never been a fan (or an adversary) of the band's recorded music, I was anxious to see what their live experience might yield. Having seen Ezra Pound (2/3rds of the current Rainer Maria) years back probably couldn't provide much of a clue.
Despite another round of crowd shifts (Dana and a few other Mates of State fans pushed their way out of the hot interior which draped the stage), I decided I'd stick it out as long as possible. Since Matt had already left, I wasn't sure how late our return bus was available, leaving me with no choice but to catch a safe 12:30 train home. Surely I could survive the "pit" for another half hour.
The crowd grew anxious as the prepped stage sat idle waiting for Rainer Maria to show. Were they really backstage doing lines of coke? A boisterous individual in the audience seemed to think so. The impatient were quieted when vocalist/bassist Caithlin De Marrais, guitarist Kyle Fischer, and drummer William Kuehn stepped into the lights, tinkered with their instruments, and then revved the crowd.
The band began by announcing the release of their new CD (Long Knives Drawn, 2003, Polyvinyl Records), and their intent to feature songs from that album in the night's set. After a few dozen listens to that album in the last few weeks you'd think I could recount the titles and provide a set list, but such is the forgettable nature of the album. The audience responded well to the notable opener, as well as several other tracks, but it was the older material that drew the largest cheers.
In the first few moments of the set, the movement was fascinating: De Marrais hopped, skipped, and danced about the stage – quite a feat for someone who must play bass as well as belting out vocals for all her frame is worth. By the third song, however, she had come to rest leaving all eyes to focus on Fischer and his aerobic performance. With few loud-then-soft/stompbox moments in the band's songs, he was free to tumble and heave about the stage. The moments where he was required to return to the microphone for backing vocal duties only added to the drama – would he make it back in time?
With only a few minutes to spare before my last sure-bet ride home would depart, I tucked my camera into my body and began pushing my way backwards through the crowd. Fortuitously I stumbled my way directly to a water cooler giving my mouth some respite from the hot, moderately smoky club. Moments later, I located Dana sitting in a chair at the back of the club, and together we trotted up the stairs into an unexpected cold rain towards the Central T stop.