Wednesday June 18th, 2003 at The Middle East in Cambridge, MA
Jonathan Richman, & Through the Keyhole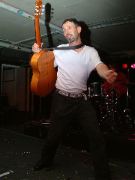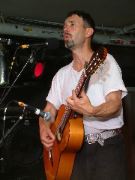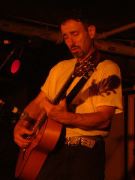 [more]
Some months back I saw that my friends in The Casket Lottery would be coming to Boston to play a show. I excitedly emailed them and told them I'd be happy to host them after the show. I also, not so clandestinely, asked them to toss me on their guestlist. A few moments after hitting "send," I learned Jonathan Richman was scheduled to play another venue on the same evening. I've never missed a Jonathan Richman show and I didn't intend to let this be my first. Knowing Richman's shows start early, I immediately began scheming. First, I took the square root of set lengths, and then raised the result to the power of the respective start times, and finally I divided it all by the distance between the clubs. New math, old math, it just didn't look pretty.
Thankfully (for my planning at least), a dispute (rumored to have something to do with the projectionists' union at the Sommerville Theatre) forced Richman to move his performance to the Middle East. The show was also moved from Thursday the 19th, to Wednesday the 18th – a day with no conflicts. Bully for me.
Now, you might ask, what does this have to do with the show? Well it has nothing to do with the sound, the songs played, or whether the vocals were on key. It doesn't even have anything to do with the club's stage lights or if the keyboards were high enough in the mix. It does, however, explain how I came to be there, and that is key to the rest of my account. It's also precisely the type of detail that will ensure I never write reviews for the music section of your local newsweekly.
--
On the evening of the show, Boston weather was holding true to form: a little cool, a little damp, and threatening to open up to a lasting, chilling drizzle. To avoid a potential soaking, Dana and I scrounged up bus fare and caught the #64 into Central Square. After our pleasant dinner at Bertucci's we walked directly to The Middle East. Having attended several Burlesque shows, I knew that if we weren't up front for the opener, then there was no point in being there at all. Using this logic, I convinced Dana to stand in line with me at a quarter to eight. Although the doors were scheduled to open at eight, The Middle East was also being true to form and the doors didn't open until after 8:30. We passed the time by inserting ourselves into other people's conversations, or just passively enjoying the absurdity of ones we dared not penetrate.
Once inside, we staked our positions at the stage's edge and continued our eavesdropping until we were distracted by a stagehand setting up a white screen near the front of the stage. Soon a woman (who would later be introduced as "Tallulah Starlight") brought out a lamp, positioned it behind the scrim and scurried back to the band room. Then…nothing. While the audience waited, Dana I strained to hear the conversation of the forty-somethings next to us, but weren't able to get the full story. From what I was able to gather, though, someone's trials are soon to be the inspiration for a Lifetime movie of the week. A second exchange involved a group of kids in their early twenties who stood behind us tittering about the oddity of a burlesque troupe. They seemed shocked that a troupe even exists. These kids are, evidently, not regular readers of Bust.
Finally, the lights were dimmed and the underutilized emcee, "Ms. Firecracker," addressed the audience explaining that Jonathan Richman had asked Through the Keyhole Burlesque to perform as his opening act. With little other warning, "Tallulah Starlight" was officially welcomed to the stage-or to the area behind the screen to be exact. With the standard musical fare of racy horns to cheer her on, she soon stripped out of her 1940s costume until only her substantial panties and pasties remained. Of course, the audience only saw the shadow of her seductive dance and the items of clothing discarded along the way. A second dancer, introduced as "Scarlet Fever," then followed wearing a body suit (of sorts) covered entirely by pink balloons. Upon letting down her hair, she used her freed hairpin to pop the balloons one by one. Ultimately, the balloons and bodysuit disappeared, leaving only her toe shoes, panties, and pasties. "Ms. Firecracker" herself served as the third act. The audience watched as she cautiously walked onto the stage costumed as a "space girl." Through swirling lights we watched her inspect an orb and gradually grow fond of it while Lou Reed's "Satellite of Love" played through the house PA. Soon "Ms Firecracker" had stripped down to her barest essentials to grand applause. Unfortunately, her single bow and hasty exit served as the finale for the burlesque troupe. No grand curtain call for each of the entertainers, no external emcee asking us to "give it up one more time." Fifteen short minutes later, the performance was over and I was forced to listen to the new experts behind me critique what was, and what was not, authentic burlesque.
Luckily, Jonathan Richman soon walked on stage and diverted my attention. Unlike the previous times I've seen Richman, the man carried an electric guitar. In his particular mutter, he indicated that the guitar was new and that we'd be his guinea pigs. As odd as that might have been, Richman's choice of guitars was small potatoes compared to his choice of facial hair – Jonathan Richman had grown a goatee! The perpetual wide-eyed wonder of Richman was immediately and irreparably damaged. Could Peter Pan pull off a beard? Of course not. The intrigue mounted when drummer Tommy Larkin sat down behind a full drumkit. Like Elvis Costello without his glasses, Larkin playing traditional drums from the traditional seating position was simply unfathomable. But there it was. In truth, none of these would make much of a difference – Larkin played the full kit sparingly and tastefully, and Richman discarded the unknown electric before the end of his first song. And then, Jonathan Richman was Jonathan Richman.
What does it take to be Jonathan Richman? Well lyrics to songs must be changed to suit the your whims and the current state of interpersonal politics. For those paying attention or familiar with the recorded versions, this will elicit waves of laughter. When changing lyrics isn't obvious enough, you should stop songs and explain lines which may be vague or that may require extra emphasis. If ever the urge strikes, stop playing your guitar and sing a cappella for a moment. Hell, why stop there: stop singing as well and spend a minute dancing. If your hips can swivel like Richman's you're going to drive the audience wild. When feeling jaunty, which must happen six or seven times during the set, sing your lyrics in a different language. To be Richman you must favour Italian and Spanish although French and German and Hebrew are all to be used as well. When singing dialog, use voices. High and whiney female voice impersonations are terribly useful when singing a love song (or an out-of-love song) requiring a woman's perspective. And while Richman may never endorse this, if you're pressed for time, simply sing "Let Her Go Into The Darkness" as it combines all of these elements. It's also guaranteed to be a showstopper.
After "Let Her Go Into The Darkness," Jonathan seemed to grow tired. While still smiling (if not more so), he was also panting for breath. Richman finished the set efficiently, and with fervor, but without expending too much energy. This meant Richman skipped his customary a cappella closer and instead provided an unidentified raucous number as his one song encore. Ending his set with a new composition seemed only fitting as Richman introduced nearly a dozen unreleased songs throughout the night. Fans can hope this means an album will soon be on the way.
Despite the weighting towards new songs, Richman did play a good sampling of material from his thirty-year career including classics such as "Give Paris One More Chance," "I Was Dancing at a Lesbian Bar," and "Pablo Picasso." Fan-favorites "Springtime in New York," "Girlfriend," "Vincent Van Gogh," and "Rooming House in Venice Beach" also found their way into the set, along with the for-locals-only rarity "The Fenway." However, for each rarity or new song played, someone's favourite was left out. Amazingly, Richman slighted "Vampire Girls," as well as live standards "True Love is Not Nice," "You Must Ask the Heart," & "You Can't Talk to the Dude." Could thirty years of material have fit into an hour performance? Impossible. So add this one to the list: As Jonathan Richman you can't possibly play everything you know, so play enough of the "hits" to excite the new fans, play enough rarities to excite the old fans, and come back often to fill in the gaps. I'm already lining up for my tickets and hoping there are no conflicts.