Thursday February 24th, 2000 at The Replay Lounge in Lawrence, KS
Sean Na Na & Photo By Husband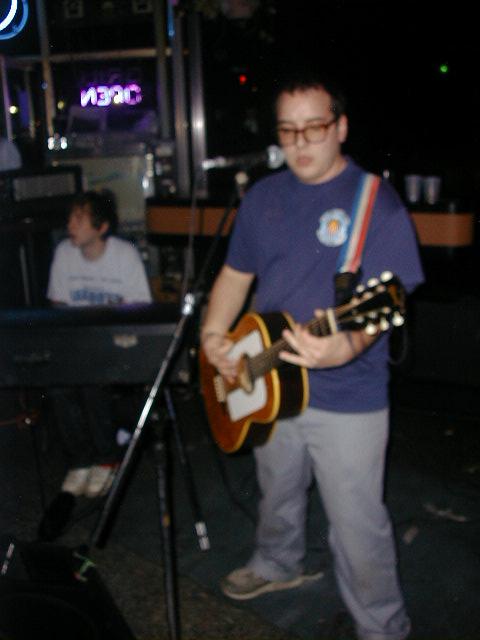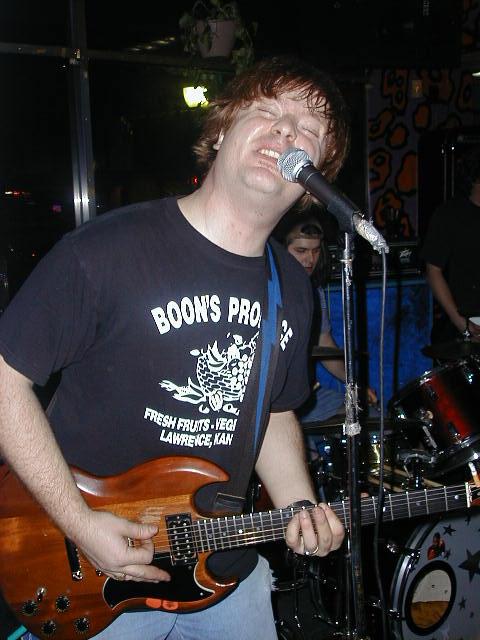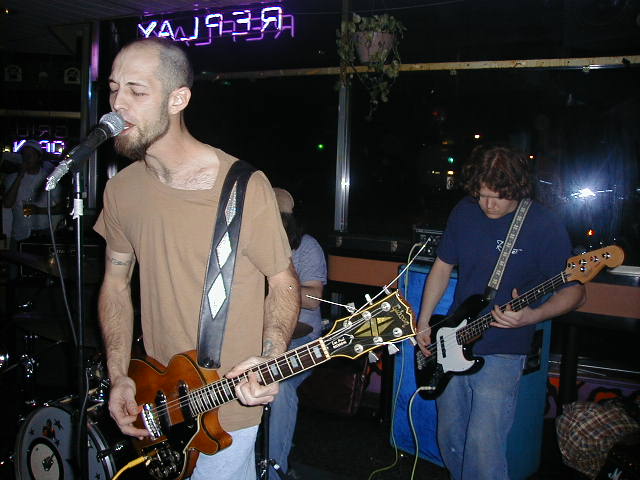 [more]
Note: I was informed by Greg Franklin that the band I which referred to themselves as Photo By Husband, wasn't Photo By Husband at all, but their close friends Coach Mac. I was duped and Photo By Husband got some bad press they didn't deserve. He also still insists Photo By Husband are good.
The Replay is really starting to get to me. I arrived early (you know 10:30) and found a few friends in the club. Of course they had no idea there was even a show that night... they were just there to drink. Bah! Luckily I ran into Sean Tillman (of Sean Na Na) who recognized me before I did him and so I was able to while away the late evening chatting with him and his touring cohorts outside on the bar's deck.
We talked about the normal awkward stuff that you do when you revisit with a touring band: how far to the next show, how long they have the been on the road, how the album is doing, all the dull stuff that only gets you short answers and long pauses. It's hard to forge any sort of closeness with someone who comes into your town only twice a year, but Sean is a very unassuming sort and that makes it worth a try.
Still, when local openers Photo By Husband started making noises I gladly excused myself back into the always cramped bar proper. When I first started seeing the band's name listed on flyers (and only for The Replay), I assumed they were the typical, noisy, formless, sleazy rock band that The Replay seems to cater to – not usually my thing. However some (sadistic) soul told me they were really good, and against my better judgement, I believed them. I even passed that once-removed recommendation on to other friends. I hate being lied to.
Photo By Husband were indeed noisy (as well as loud) and generally tuneless as well with only the most occasional redeeming guitar line. Furthermore, both the drums and bass were loose and vocals were embarrassingly amateur. The two guitars battled frequently for the spotlight and the song, leaving the audience the eventual looser. Having heard that Sean Na Na was planning a short set, the band decided to stretch out and played for about an hour to a crowd that generally tolerated them.
After about 35 minutes (the max time any opener should play) I began to loose interest and attempted to converse with under-aged dreamgrrl Stephanie through the cacophony. Ultimately the band finished with an epic sprawling number that seemed to ironically (or not) readdress all that was wrong with dinosaur rock in the mid 70s. I apologized to the friend who showed up on the recommendation that I passed along.
Sean Na Na were performing as a two piece consisting of Sean on acoustic guitar and Lucky Jeremy on a Rhodes piano, but as I learned earlier in the evening, they would pick up their drummer at the next gig. A third member still wouldn't explain the need for the extended length club wagon parked outside.
Earlier in the evening we had also discussed the odd dichotomy of The Replay; how bands typically play to only a handful of fans, but still receive good money from the club at the end of the night. No one minds playing a $1 or $2 cover to get into a club to drink and on a nice Thursday night that money adds up. I joked that the band would play to only a dozen folks but Stephanie trumped in bidding only five. Stephanie won that hand.
As the five of us stood up front staring in wonderment at the hobbit of a man with a brilliant ear and an eloquence that is positively barbed, the rest of the bar drank $1 cans of Pabst Blue Ribbon. Sean's songs are emphatically inspiring -- they make you want to go home and write poetry and play that acoustic guitar you haven't moved in over a month. The only thing smarter than Sean's pop formula's are his lyrics and the complete package reminds me more of Elvis Costello than Mary Lou Lord, Lois or any of Sean Na Na's other contemporary cohorts.
Although keyboardist Jeremy seemed to be completely incoherent and merely banging on the keyboard like a slow child, he was actually producing an incredible sound that varied from the surreal and spooky to warm and comforting. Even more amazing is that Jeremy was able to do it all with a keyboard missing several important keys. Sean's guitar work was generally slow strummed open chords to compliment his slow relaxed vocal delivery.
There was little banter during the band's short twenty-five minute set other than a request for crash space and (I believe) a mocking request for cocaine. Stephanie volunteered her mother's house as band lodgings and after the band's set she rushed home to warn her. After being sure the band was secure with accommodations, I headed for Dunkin' Donuts and then homeward to Kansas City.
However the nights tale doesn't end there. While doing that just-in-case email check before bed I found a frantic note from Stephanie. Her teenage status was reaffirmed when she arrived home and found a fight to get into with her mother. Not only was Stephanie told she couldn't play hostess to the traveling minstrels, but she was told she couldn't even go back to the club to tell them that. Her email explained how she tried to call the club for a half hour only to have the phone ring endlessly before giving up.
So there are two lessons to be learned: first, under-aged dreamgrrls are still under-aged no matter how advanced of a conversationalist they may be, and second, never accept crash space from Stephanie.