Saturday July 19th, 2003 at TT the Bears in Cambridge, MA
Skating Club, The Lonesome Organist, Rebecca Gates, & Gordon Merrick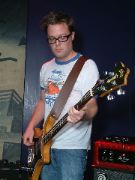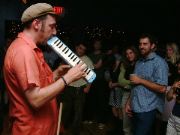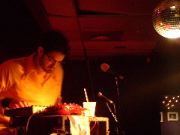 [more]
I usually like to start writing these accounts as soon as the show is over, when my thoughts are focused and memories and impressions are still close in mind. This, however, is a show account started days after the last band set down their instruments and walked off of the stage. Let's start from the end and then worry about the beginning later.
--
After keyboardist Matt Smith and vocalist/guitarist Aubrey Anderson finished their hushed and tender encore, I packed up my camera and began my beeline for the door. Remembering that I had presented Too Much Rock buttons to all the bands except headliners, Skating Club, I slipped over to their table, explained who I was, told them where to find the night's photos, and tossed a handful of buttons their way. Now I was ready to go.
High from one of the best shows I had attended all year, I zipped home effortlessly on my scooter. It was running great, the night was cool, my ears weren't ringing, and, finally, the bad-luck slump that had dominated my last two weeks seemed to be lifting. I passed the gaggle of smokers outside the Model and turned onto my one-block street. Instantly, I noticed that one of my scooters was missing – its custom cover was lying in the street, but the scooter was not to be found.
I quickly parked the scooter I was riding – locking it to a post – and ran up the stairs to be sure Dana hadn't moved it or otherwise done something with it. She was, of course, asleep on the bed with Atlas Shrugged lying facedown to her left. I asked her to call the police and I bolted down the stairs, taking three or six at a time, to scour the neighborhood.
The police in Boston don't come out for stolen vehicle reports. Although I have lived in towns where a vehicle theft would be front-page news, I wasn't expecting the "Without a Trace" crew to descend upon the crime scene and dust the bike's tarp for fingerprints. I did expect to see a cruiser. But no, Boston is big enough and car theft common enough that I was forced to drive over to the Brighton Police Department and fill out a complaint.
The officer behind the desk was rude. Hours and pages could be spent talking about him, but mostly, I imagine, you're here to read about the stage goings-on, so I'll be brief. Reports were filled out, incident numbers were assigned and I headed back to Allston. Hoping to find the bike dumped in a ditch (again, for a number of specific reasons terribly out of scope), I scooted around the neighborhood with my high beam on paying special attention to the park near my house, dark alleys, and abandoned lots. Unavailed I retuned to my apartment to notify every scooter mailing list and Boston newsgroup of my plight. At 5:00 AM, I climbed into bed. At 6:00 AM I was awoken by Dana who reminded me we had to be on the North Shore that morning for a cousin's birthday party. We were also expected to bring a gift.
So time and life marches on, and the memory of a fine show slips into the forgettable recesses. But, at least you know why. Please keep an eye out for a light green Vespa ET4 scooter. And now for the beginning…
At 9:30 TT's was still bare. There were a few cliques lining the walls and corners of the club, but definitely no anticipatory fans pressed to the front of the stage. Maybe they were afraid? The stage was a hodgepodge of hokey lighting gimmicks and electronics. It looked like a junk shop or a suburban basement with its retired toys and kitschy fads. When the lanky Gordon Merrick stepped onto the stage in a startling orange shirt, the audience was introduced to this collector of the discarded.
I grabbed my camera and began to prepare for whatever was to come. As you guys have probably noticed, I take a lot of pictures. Why not, they're free, right? The sad news is I delete more than half of the ones I take before you ever see them. I also take video which most of you never see. Currently, I travel with four memory cards (purchased at various times as technology and pricing allowed): 8MB, 16MB, 32MB, and 256MB. Normally I go home with each filled. When I hunted through my camera bag for cards, I found none. Inside the camera were the 8MB and the 16MB. I could take only 24MB worth of pictures? As a result, I was forced to be stingy with the photos early in the evening. This was particularly heartbreaking, as the stage accoutrements begged for documentation.
Gordon Merrick began his set by introducing himself to the audience; it seemed, however, as though the majority of those who had moved toward the stage were actually friends of his. Curiously, he chose to begin his set with a song that usually features a vocalist who wasn't able to make it to the show. He apologized for the "octave work" he was about to attempt, pressed play, grabbed a tambourine, and waded right into The Partridge Family's "I Woke Up In Love." I listened closely to the backing "tape" wondering if he was simply providing karaoke to existing recordings, or if he was even singing at all. How elabourate would this farce be?
Merrick followed the gaiety of The Partridge Family with a minor key version of Steve Perry's "Oh Sheri," and then tackled Gary Wright's "Dream Weaver" with the help of a mysterious male vocalist with an appropriately high vocal range. After nailing the dreamy flourishes in "Dream Weaver" on what appeared to be an electronic Autoharp of sorts, I figured Merrick might be for real.
In truth, Gordon Merrick is quite a musician. His arrangements are often smart, and most breathe new life into a repertoire of songs as discarded as the items he assembles on stage. His keyboard and guitar work were surprisingly apt (if not actually impressive). Those still doubting Merrick's skills need only to hear his plinking and bubbling realization of INXS's "Don't Change." While certainly biased by the additional voice of Liz Enthusiasm of Freezepop, the song sounded as fresh as current college radio darlings The Postal Service.
Although only a few songs sounded as if they were ready to win critics' hearts, even the worst of them were entertaining. Merrick's emasculation of Night Ranger's "Sister Christian" was little more than Merrick hamming cheesy vocals over a midi download of the original arrangement, but even then the audience was wowed by his showmanship.
After Merrick took his bows, he began dutifully removing his heap from the stage. At the same time, Rebecca Gates climbed to the back of the stage to activate her amplifier. Due to undisclosed technical difficulties, however, she spent almost half of her allotted set time setting up the simple electronic guitar and combo amplifier. Gates was obviously miffed by the affair, but remained casual and talkative with the audience – an informality that carried into her set of singer/songwriter material. Defining her sound beyond that non-definition is tough; although there were elements of new country as well as jazzy guitar subtexts to several of her songs, her short, five-song set provided for no over-whelming stylistic classification. She left the stage quickly, announcing she was scheduled to return supporting Ted Leo in a few months.
Gates's slight stage footprint turned out to be an aberration when The Lonely Organist (aka Jeremy Jacobsen) began loading his substantial gear onto the stage. As his name implies, Jacobsen is indeed a solo act; however, along with the organ promised by the performer's name, Jacobsen also plays guitar, drums, xylophone, and melophone – often simultaneously. This feat of manual dexterity alone is worth your $5 at the door, but unlike most gimmicky acts,The Lonely Organist is actually enjoyable with your eyes closed.
Don't let me oversell his music though; the pure joy and exhilaration of The Lonely Organist is watching the high-strung (if not frantic) Jacobson. Although I've seen busy drummers before (Andrew Sallee from namelessnumberheadman plays drums, keyboards and sings in his band), Jacobson is truly a master. To facilitate quick shifts from keyboards to drums, his sticks always hang in the ready position via improvised wrist straps. When needed, he can simply swing his arm and catch the sticks in their climbing arc towards his hands. Although a bit like catching that ball in the cup, Jacobson never seemed to falter. His guitar antics were similarly entertaining with open (very open) rapid-fire strumming augmented by the occasional fretting when he could afford to relieve a hand from its work with the snare drum.
While most of The Lonely Organist's music is a stomping rock (not nearly as bluesy as Bob Log III but with similar cadence), he does seem to have a soft spot for a cappella doo-wop. Standing free of any instrumentation, Jacobson would begin the backing tape of his voices and then join himself to create the mythical fifties quartet of The Not Lonely Not Organists. Despite the extreme levels of reverb Jacobsen insisted the sound person use, he seemed to have a very strong voice – the sort of voice that lands you on the stage of your city's musical theatre and earns you a try-out for Star Search, I imagine.
Jacobsen ended his set by stepping off the stage and into the audience for a song he played on the melodeon (you know, that plastic recorder-like instrument the Hooters had). His hollow, unamplified tones gripped the smiling, mesmerized audience until Jacobsen broke the magic by tap-dancing something like an intentionally clumsy soft-shoe accompaniment. Everyone was dazzled, and I was more than impressed. A couple of generations ago, this man would have raked it in playing the borscht belt, and then, after a few summers in the Catskills perfecting the old vaudeville, he'd be off to Hollywood to be the goofy sidekick alongside Fred Astaire or Bob Hope. If nothing else, Jeremy Jacobsen needs to align himself with the current burlesque revival and milk his magnanimous, jaw-dropping dexterity and musical talent for all it's worth. For the love of god, you must see The Lonely Organist.
Few bands have a shot of out-performing The Lonely Organist – maybe Man or Astroman? with their lofty themes and fiery gimmicks, or Captured By Robots, a band consisting of midi-controlled, air-powered, robots physically playing their instruments – so it was fortunate that Boston's subdued Skating Club felt no need for competition.
All the press around the band indicates it's the musical outlet of vocalist/guitarist Aubry Anderson; because of this I was expecting to hear songs dominated by a singer/songwriter strumming his guitar while session players simply filled in the gaps or provided colour until the unavoidable solo whereupon they would make themselves scarce. While the deep roots of Skating Club's songs may reside within Anderson and his guitar, the realization is much more egalitarian, and there are few, if any, solos.
Skating Club's songs are slow: not exactly stark, but certainly not layered. They are dainty pop compositions recalling the simple beauty of Nick Drake, but mumbled in the slowcore language of Ida, Low, or locals Tiger Saw. Because of their pop undercurrent, the band's songs develop quickly; there isn't time for the gradual inclusions of instruments or multiple themes, nor is there time for plodding atmospheric pieces that polarize audiences into the hypnotized and the bored.
As many of the band's songs are instrumental (or nearly so), Anderson indulges his natural tendency to shy away from the microphone. Even in those songs where Anderson has substantial vocal lines, his voice is generally echoed by that of keyboardist Matt Smith. In fact, it's Smith who has the most noticeable roll in the band, as his effects-processed-piano is largely responsible for carrying the band's lazy flowing melodies. It's a job he seems to take terribly seriously – when he plays his teeth grit and his jaw grinds noticeably, almost audibly, over the quiet band. Although you might expect Smith to smile, or least smirk, during one of his moments of effects processor overload, he gives the audience no reprieve. He is determined to take that delay to obscene levels as if it were the only way to save life on Earth as we know it.
Other players were certainly less conspicuous: a drummer who was filling in for the hired-hand drummer, and the bassist of fine, albeit inauspicious, ilk. Both were probably in their late twenties and exuded that reserved vibe that usually indicates a commitment to stable day jobs as teachers or business analysts. When the band was called up for an encore, these two remained in the audience allowing the now positively giddy Matt Smith to direct Aubry Anderson towards a stripped and gripping final song. This, I believe, is where we came in.
--
Update: My scooter was recovered several days later when it was discovered hidden in a wooded area not far from my apartment. Currently, it sits at the dealership, awaiting insurance to sort out the details of bodywork, engine repair, and deductibles.