Sunday October 24th, 1999 at The Bottleneck in Lawrence, KS
Snapcase, Kid Dynamite, Buried Alive, & Not Waving But Drowning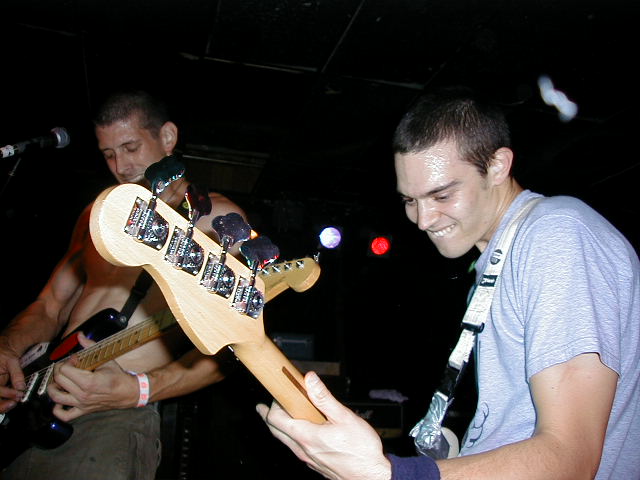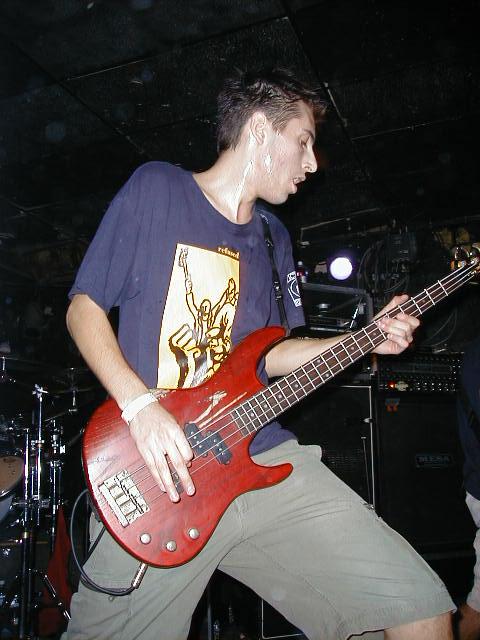 [more]
Just a short review from memory here as I can't find my notes on the show and I'm writing this over a month after it happened. It was a real trip to try and photograph a hardcore show again, it'd been too long. Don't worry, I'm getting back on track with my reviews.
Hardcore used to be my life. There was a very honest scene of kids who thought they were going to change the world, or at least make their own world with a better code of ethics. Coming back to a show like this and seeing new faces on the same kids was a little eerie. The most obvious difference was the gear each band played. Everyone seemed to play through a Mesa Boogie amp, bring a full stack and have cordless mics. Back in the day™ gear like that was wasn't even invented or maybe used only by Tesla.
St. Louis' Not Waving But Drowning are essentially the same local band that I used to see every weekend - just several derivative musical generations later. Although the band plays the metal-tinged hardcore du jour well, including all the correct looks and poses, it wasn't exciting like it used to be. I don't think the band was faking it; they were definitely into what they were doing, but they just couldn't move me with the same old thing. And they didn't move the rest of the audience who were holding out for the headliners. If you like the genre, then this is a good band, they are just young (they were selling their cassette demo at the show) and need to mature into their own sound and learn to command an indifferent audience.
I heard people snicker when Buried Alive's guitarist and bassist set up their cordless microphones on the small Bottleneck stage. Afterwards the crowd understood why. Buried Alive got the crowd involved early with constant jumps, big group sing-a-longs, shout outs, and plenty of finger points. They had an obvious New York feel to them, and at the same time lead the pack as the hardest of the hardcore. This band was like nails! There wasn't much originality (from my limited sampling) in the lyrics, but spirit of '88 was alive and well.
Although there were fans who came for each of the bands on the bill, Kid Dynamite seemed to be the biggest draw. Their self-titled CD (Jade Tree 1998) is full of up tempo punk rock that is rich in melodies, sing-a-longs, and catchy break downs. If you think this sounds like the calling card of Avail, you're right and I think they can be faulted for that. But for what this band lacks in originality, they make up in their live show. Everything about their music is fun and energetic and their stage show mimicked that enthusiasm, as they whipped the audience into stage-diving frenzy.
Snapcase are a different type of band than Kid Dynamite and follow a different set of rules. They are older, more seasoned and connect with the audience in a different way. Snapcase doesn't make the audience feel they are part of the band, but rather that they are part of the performance. There are fun elements to the band, but the band is more serious and intent on presenting their messages of straight-edge, self-determination, and veganism.
They began their set apologizing for their last performance in the area (an arena show with Quicksand and The Deftones), calling it the worst show of their career. The past aside, their performance on this night was superb. Everyone in the band seemed plugged in and the diverse audience came together as a throbbing sweating mob. Although the band played several songs from the forthcoming album (Designs for Automotion due January 2000 on Victory), it was Lookinglasself and Windows that drew the greatest response from the audience.
As the band ended their last song and the feedback of their guitars ended with a pop, I made my way out of the club passing a line of bewildered college kids who waiting for this all-ages show to clear out and Swing Set (a Sunday night 21+ Swing Club) to begin. One costumed grrl turned to her dressed up beau and said "Oh yeah I forgot there was that metal thing today." My friends used to tell me sXe was a trend, I bet they're at home putting on their suspenders for Swing Night at the local bar...