Wednesday March 26th, 2003 at The Middle East in Cambridge, MA
The Stereo, The Belles, Red In Rescue, & Chesterwhite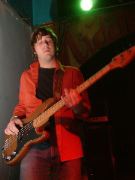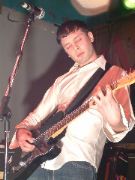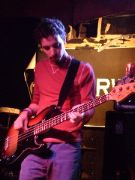 [more]
I spent the afternoon with Matt. He graduates in 10 weeks from the New England School of Photography and I'm desperate for him to impart his two years of study to me in the next two months. When you can pin him down, he's willing. Today I cornered him by promising a scooter ride to Calumet Photo, which passes for Toys R Us to those in the photo set. The kind folks behind the corner sold me a new flash, sync cord, and a camera bag. Matt just petted a $1000 flashlight that points to an umbrella while he sobbed quietly. Sometimes I don't understand Matt.
Later that evening I sat in the drizzling rain waiting for the bus, while my scooter sat, disappointed, under its tarp. I fidgeted with my camera bag, anxious to see what my new toys could do. When the bus was ten minutes late I was annoyed; at twenty minutes, frustrated. At thirty, I gave up and shared a cab into Central Square.
Due to the MBTA mishap, I arrived at the Middle East twenty minutes into Chesterwhite's set. I knew the band's name was Chesterwhite because of a giant banner that adorned the wall behind the drummer. I also knew enough to fear any opening band that carries a giant banner to put on the wall behind its drummer. While I am always upset when I miss any band on a bill, the delinquent bus may have actually been the hand of a benevolent god.
As I was only in time to catch two songs, I wasn't able to divine much. I learned that even at its weakest setting, my flash is very strong. And I learned that, despite the band's claim to be reinventing rock, Chesterwhite is a straight-up rock and roll band. The focal point of the four-piece was singer/guitarist Donny Dykowsky, who crooned along with his acoustic guitar while the rest of the band lumbered along with standard blues-rock patterns. Similarly banal, the lead guitarist contorted his face and upper body while bending out obligatory clean guitar solos. This music may mean something to the band, and it may even be played well, but I was obviously uninterested.
While I found Chesterfield to be tired, local opener Red in Rescue surprised me with their original use of dual guitars. As if part of some vanguard experiment in songwriting, the guitars never seemed to complement each other, but instead each was a separate representation of how a single guitar might suit the song. I don't believe songs are written in secret before being handed to each secluded guitarist; however, I do believe each guitarist has the confidence to write his or her own vision. The effect is an odd stereo that the listener can manipulate by walking from one side of the stage to the other.
Nitpicking with genres, one might place the band with a group of other indie rockers who have revised the lulling shoegazer genre by adding in difficult shifts and quicker compositions. Vocals come from either guitarist, either solo, or in tandem. This focus on variation is key to understanding Red in Rescue's musical signature.
While their songs were often more interesting than remarkable, the final song of the night was brilliant. Ticking, muted guitar-work defined a song that was simultaneously brooding and sweeping. Few comparisons seem to fit this (as I'm told) new song, but I hesitantly hand the band my first "reminiscent of Fugazi" nod. Congratulations.
Of course my initial motivation for attending the show wasn't to discover new local bands, but rather to support Lawrence Kansas's The Belles. Knowing each of The Belle's players through their previous bands, I felt it only polite to show a little KC pride (Lawrence and Kansas City are essentially the same symbiotic scene.) However, my familiarity with each of the players' previous bands (The Creature Comforts, The String and Return, Reflector, and others) provided no clue to what I could expect from The Belles' music.
Aptly describing itself as "prairie rock," the band shops a loose and organic rock and roll reminiscent of the countrified Rolling Stones, or the reserved Neil Young, whom the band covered for their final song of the evening. Never shaking its indie rock roots, the band hasn't become the staid rock & roll icons they imitate – nor do they strive to. Although this blending of schools isn't entirely new (see Chamberlain a full decade ago), it's one not trafficked in often and, thus, still sounds fresh.
Unfortunately for the band, its lo-fi, alt-country is best consumed while sitting at sticky tables in dark bars, or from behind the wheel of a truck driving through a leafy state park. Their performance was simply not that captivating. In their effort for honesty, they've abandoned showmanship, and, as such, lost the attention of much of the young audience. I must admit that aside from the atypical jangly alt-rock of Never Said Anything (the single for which the band has made a video), I also drifted off amidst the acoustic guitar and rasped, worn voice of Christopher Tolle.
I ran into a number of friends at the show (all known from before moving to Boston – I've yet to make a new one) and each made the conscious decision to leave before The Stereo. Each also asked if I intended to do the same. I should have taken that hint.
While entirely unfamiliar with the band and its five-year history, its name is certainly recognizable. The band's name and logo appear in banner ads on my favourite websites, as print ads in my favourite magazines, and on "played with" or "sounds like" lists of some of my favourite bands. I knew they were part of my shared culture; I just wasn't familiar with where they fit in. Again, I missed the clues throughout the club: the very young kids, the Reggie & the Full Effect messenger bags, and the t-shirts adorned with the logos of various bands on Vagrant Records. The Stereo is teenybopper pop.
While the band is obviously not in the same manufactured boat as The Backstreet Boys or N*Sync, its music and image is created to be easily digestible for those whose taste buds have just ventured away from TRL. Sadly, youth never sees when they're being pandered to. When I was a kid, I thought Rick Springfield was a real rockstar; now I understand he was just an actor playing watered down rock and roll, all in the name of creating a pop-star buck. The Stereo is generation Y's Rick Springfield. Only this time they're not playing watered down rock, they're playing revved up pop.
Singer/guitarist Jamie Woolford is a saccharine showman. His direct communication with the small audience of lap dogs was effective, though paper-thin. He knows what his role is. He knows he's expected to give a show. And luckily for the grateful fans, he is able to deliver one. Along with bands that place banners behind their drummers, I now fear any band that requires the audience to clap their hands over their heads. The audience, however, had no such reservations and sang along with every word in the band's power-chorded arsenal. I slipped from my position at the front of the stage and moved to the side where I might get a better view of the ordeal.
The power of the illusion was great. Although a quarter of the remaining audience furrowed their brows in bewilderment, the band's fans were star-struck by the pin-ups on stage – and why shouldn't they be? Songs were catchy, fun, and contained irresistible bounce. Sweeping power, bold dynamics, and an emotive singer make for good songs. Only substance lacked.
Later in the evening I spoke with guitarist Andrew Ashby and asked him about The Belles' mellow set. From our conversation, I was left with the impression that the band's low-key offering may have been a bit of a protest. Although he expressed gratitude for The Stereo bringing his band on tour, the similarities betwixt the bands are few. The proven rule has been that fans of The Stereo are seldom interested in the mature sounds of The Belles.
In a strange bit of luck, however, liquor laws have created a silver lining for The Belles. In most states, kids under 18 or even 21 can attend shows in bars only if their parents escort them. Such is the case at the Middle East, where minors are otherwise prohibited. Ashby explained it's the drug-along parents who have had the biggest interest in his band and, as a result, have purchased the majority of their CDs on this tour.
I left without a CD from any of the bands, although Ashby did insist I leave with a handful of stickers I could use to promote The Belles throughout Boston. I accepted graciously before tossing them into my new camera bag. I then slipped out the back door hoping the #64 would be on time for its last run of the night.