Saturday June 14th, 2003 at The Middle East in Cambridge, MA
Trans Am, Black Taj, & Measles Mumps Rubella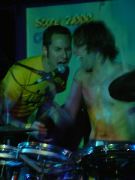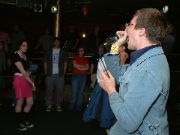 [more]
Dana and I scooted into Central Square for a lovely Indian dinner. Afterwards, we walked to The Middle East where, with breath reeking of shahi paneer and basmati rice, I kissed her goodbye and duly took my place in line. This was at 8:15. Although the doors were scheduled to open at 8:00, those waiting were soon informed it'd be at least 8:30 as "the band" was still soundchecking. Ultimately the doors wouldn't open until 9:00. A darling stranger helped me pass the time by talking about her band and scores of other bands that I had never heard of. Unfortunately, I could only respond in kind. For forty-five minutes we volleyed band names back and forth, and shrugged apologetically for not knowing the musical passions of the other. It was awkwardly entertaining.
Our conversation ended abruptly when the queue began to amble forward into the club. I expected my nameless acquaintance and I might continue our non-communicative conversation inside, but, unfortunately, the moment I opened my wallet for ID and cash, the memory of my driver's license sitting on the face of my scanner became clear. Although I considered pleading with the gal checking IDs, I had already overheard that it was her first day of work. That fact guaranteed there'd be no wiggle room in the club's door policy. Dejected, I jogged back to my scooter and zipped home to collect the forgotten ID. Upon my return, I took my regular solitary position at the front of the stage and engaged my Palm Pilot in Scrabble tournament play.
The relatively new DC foursome Measles Mumps Rubella began somewhere around 10pm. While the band had arranged their short stay on this tour through personal connections with the other bands, their sound and performance seemed much more suited to a basement or rented VFW hall. They, like a host of other bands only known to their hometown fans, parlayed political activism, DIY, and a hardcore ethos into a jarring set of would-be anthems. Leaving his second percussionist post, the vocalist would often make uneventful forays into the audience in an attempt to connect the passive consumers and band as one. In a basement show, where there are no stages or colored spotlights, I'm sure this comes easily to the band. In a venue the size of The Middle East, riling and energizing a crowd of flaccid indie rockers is a daunting task for even the most experienced of bands. One particularly apolitical attendee would later comment that she only came to "shake her ass" to the evening's headliner, Trans Am. As a result, the band may have reached a minority of the audience who already shared its demographic and its socio-political proclivities, but the rest seemed unaffected by the band's raging and jagged post-rock stylings.
While the audience seemed unwilling to embrace the exuberance of MMR, most seemed willing to sing the praises of DC's Black Taj sight unseen. Black Taj's advantage was one of history. The band is lead by vocalist/guitarist Dave Brylawski of the critically acclaimed yet never commercially embraced Polvo. This, of course, makes them ripe for a hipster name-dropping. By also utilizing ex-Polvo bassist Steve Popson, Black Taj has become the de facto new Polvo – a fact significant enough to make almost any elitist indie rocker take notice.
While Black Taj debuted their live show in Washington DC approximately four months ago, Boston's audiences had no idea what they could expect. If we had all done a little more research into the band before the set, we may have discovered that Black Taj guitarist Grant Tennile sidelines in a tribute band entitled The Jimi Hendrix Inexperience. It's that raw, groove-laden, and heavy "acid rock" foundation that serves as the starting point for Black Taj's arty, angular, sonic experiments.
Before the band began, Brylawski apologized to the crowd and explained that the tip of his finger had been severed earlier that evening in a mishap with a Gillette (Boston's own he pointed out) razor. As a result, he wouldn't be able to play all of his guitar parts. We later learned the band also attempted to play the set much slower than is customary in an effort to assist Brylawski. However, the truth is that few, if any, in Boston had seen the band perform, their debut recordings have yet to be released, and the sheer cacophony of their set made it completely impossible to know what should or shouldn't have been present. If not for the poorly bandaged and bloody finger offered by Brylawski as proof of his accident, none of us would have been the wiser.
When the music did begin, it was intense. While comparisons to Polvo are sure to be stretched over Black Taj, the similarities seemed largely in that of approach and inspiration, not in realization. Within a song, the souring faces of hopeful Polvo fans made it clear that they were feeling confused at best, and, more likely, feeling duped. They seemed particularly leery of guitarist Tennile, who spent much of the evening contorting his face through technical exercises acted upon either of his Fender Stratocasters. While wheedling solos are something of a rarity in indie rock, a guitarist who uses his whammy bar while soloing is often marked as a pariah. At the end of the set, the audience members I spoke to agreed Black Taj would be an acquired taste at best. Others dismissed the band as "good for what they do" or simply "stoner shit."
While it is sure to be an uphill battle for a band as complex and veritable as Black Taj, one might have thought Trans Am's crowd was up for the challenge. Trans Am, after all, is not a watered-down darling of the Vagrant set, nor is it the latest mop-topped, revivalist regurgitation being popularized by the media. Trans Am is… well, let's back up.
After Black Taj's set the audience was subjected to a brutal wait. We had all seen Trans Am's gear set up for some time; we had even seen its members come out and check the equipment and volumes and lines. Then we all watched as the band retreated to the backstage area while we all waited. And we waited. I watched as someone stood guard at the door, looking in occasionally and chuckling at the audacity of the trio. My mind raced through a long list of debaucherous acts that must be occurring in that small, fortified room. A more trusting fan offered that the band might be changing into costumes. She added hopefully, "the last time I saw them, they wore all white." When the band finally did take the stage, not a one of them was wearing white.
However, even while the audience cheered the belated arrival of the band, more delays were being planned. A DJ from local alternative radio station WFNX stepped up to a live microphone to introduce the band, and plug a few other shows sponsored by the station. While this may be accepted practice for arena dates, the anxious (if not hostile) audience would have none of it. As a result the WFNX announcements were barely audible over the cries of "get off the stage." This is, of course, as it should be.
Jeered on, the band began their set with both Nathan Means and Philip Manley behind their synthesizers. Slowly they built onto a teetering electronic groove augmented by drummer Sebastian Thomson. While describing the band's long set as post-rock is certainly a cop out, tossing in other qualifiers such as disco, glam and new wave only clouds things further. The band's mostly-instrumental songs were both repetitive and meandering, consisting of formless noise as well as tight bass grooves supporting wet synthesizer lines. The Gary Numan-esque swells of the band's recorded work were represented live; however, at least from my vantage point, it tended to be contested by the bass work of Means and Manley – both of whom were sporting distorted bass tones that were seemingly resurrected from a 1970s Uriah Heap album.
While fans may have come determined to get their dance on, the uninitiated in the crowd seemed unsure of the protocol. My camera and body were jostled by an equal number of sweating, smiling dancers, as they were by ardent, head-banging rockers. Throughout the evening I wondered about this motley crew, so when the band left at the end of their set, and while the audience called for their encore, I took the opportunity to talk to those around me. Though no one shared anything of great consequence, I did get high-fived (a number of times) by a large, panting, balding man in his forties whose only comment was a repeated and emphatic "Those guys rocked!" Exactly. They rocked, and that disappointed me. I wanted something more sterile, something darkwave, and instead I got a set that was much too intense. While a live band that simply recalls the sounds from its recorded efforts is often undesirable, a close approximation to that is what I was hoping for. To follow my own advice in cases like this, next time I'll stay home with the albums and have my own Trans Am concert. Ultimately I would have been much more satisfied.