Friday December 5th, 2003 at The Middle East in Cambridge, MA
Wheat, Steve Burns, & The Spaceshots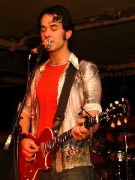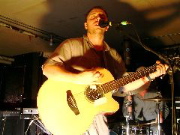 [more]
For those who don't care about the scenes that set a show, you'll want to skip ahead. However, the mood in Boston, and of Boston's inhabitants, is crucial to understanding the next few hours. Boston was bracing for its first snowstorm of the winter. A nor'easter. A bona fide blizzard.
Earlier that day, I had made the necessary preparations: I purchased the last snow shovel at Kmart (one I actually found marooned by the backpacks, away from the now-empty aisle that once held dozens of similar red plastic ones), I slipped into the grocery for some comfort food (where I was greeted by long lines of frenzied shoppers buying milk, eggs, and toilet paper as if Boston might transform into Soviet Russia once flakes began to fall), and I purchased vast amounts of postage so I could mail CDs from home instead of making the snowy trek to the post office.
The Bostonians I met on the streets seemed to fall into one of three categories. Either they were hardy New England types who were ready to welcome the expected arrival of a long bitter winter, panicked types who assumed this would be the storm of their lifetimes, or not concerned at all. This last group could be further broken down into those who were jolly and relaxed, and those who were merely in denial. After being brutalized by my first New England winter last year, I was respectful and a bit cautious, but not particularly worried. Prepared, like a Boy Scout, I thought.
At 7:45 I was still adding layers when I realized the time. Knowing my bus only runs once an hour, I ducked out the door hoping my shirt, sweater, hooded sweatshirt, flight jacket, gloves, scarf, and stocking cap would be enough to keep out the cold. No time to dig my boots out of the closet, and my legs would have to survive without thermal underwear. I hoped I was prepared for my five-minute wait for the bus and my two-block walk to the club.
Outside there was still no sign of snow, just wind, cold, and hurrying people all trying to get somewhere to hole up before the impending doom forecasted by local news stations arrived. I reached into my bag, turned up the music in my headphones, and waited for my lagging bus. Once aboard and Cambridge-bound, I noted that everyone on the bus seemed to be completely unprepared and obviously hurrying home. There was no sign of others venturing out – at least none so obvious as myself.
Although doors where scheduled to open at eight o'clock, twenty or so kids still stood on the sidewalk which runs alongside The Middle East when I arrived at 8:15. Although initially in high spirits, the waiting fans soon grew tired and were solely focused on shifting their weight anxiously and rubbing their hands together for warmth. Those without scarves turned their faces to the building in hopes of avoiding the pervasive wind, while others tried to remain social while forcing their necks deeper into upturned coat collars.
The prospective audience was mostly female and young. I was one of the only three or four guys in line, and I'm sure I was the oldest one. I over-listened as girls shared stories of monumental travel to make it to this show; my bus trip into a night when snow was expected seemed somewhat trivial next to a trip from New Mexico or Florida. Of course, they didn't know the half of what their visit to Boston would entail. They'd find out in a day's time that the airport was snowed in, thus extending the visit longer than they expected. But now I'm getting ahead of myself.
When the doors were opened at 8:30, there was a considerable push to enter the warmth of the club. In a very charitable and uncharacteristic move, the staff of The Middle East invited everyone to come in and wait while tickets were taken and IDs checked. I suppose the club thought this manageable, as the line had not grown much behind me. Or maybe security was also worried that the sky could rain down frozen doom at any moment. I made my way to the stage, leaned against a monitor, and started a game of Scrabble on my Palm Pilot.
Although the show was scheduled to begin at nine o'clock, at show time the audience hadn't swelled much beyond those initial hardcore fans whom I encountered waiting outside the club. Unable to stall any longer, The Spaceshots went on stage in front of a couple of dozen attendees at 9:15. Frontman Patrick Emsiler thanked the audience, explained that CDs were available at the front of the stage for $10, and then attempted to push his band into an unnaturally upbeat set. Whether disinterested, unmotivated by the weather, or unable to feed off the energy of the small audience, there was a noticeable disconnect between the band's blasting power-pop music and their sluggish performance.
While shoegazing may have been appropriate for Emsiler's previous work with The Sterlings, in The Spaceshots everything is upfront and obvious. Guitars are loud, vocals are definitely highlighted, and the backing vocals are entirely expected and proper. The light bounce of the rhythm section sanitizes the driving guitars, insuring that the band remains firmly in pop territory. Emsiler has made no apologies for the band's radio-ready rock, or for his desire to take the band to a major label. As such, it's hard to get past the band's obvious desire to be wedged between Weezer and (mis-nominated Grammy contender) Fountains of Wayne in the teeny market. Of course there is more to the band, particularly in songs like "The Oldest Excuse" where the rhythm section drives harder, the second guitar of Toirm Miller is allowed to buzz freely, and Emsiler's voice shifts into a determined rasp. While this certainly affords the band more mystique, it is likely to be then saddled with unwanted Foo Fighters references.
The audience's infatuation with Steve Burns started early – 1996 for some. That is the year Steve Burns began playing the green-and-white-striped-rugby shirted "Steve" on the Nickelodeon television show "Blue's Clues." I knew the audience was young, but surely they weren't preschoolers in 1996. Maybe they have siblings that young, maybe they were babysitters, or maybe they were simply infatuated with the chipper, clean-cut and nurturing "Steve."
Undoubtedly, some of that goodwill has remained as "safe, lovable Steve" has transformed into "Steve Burns: indie rocker." As painful as this may seem, Steve Burns and writing partner Steven Drozd (of The Flaming Lips), have created a set of songs that sit right on the cutting edge of music. Working with both acoustic and electric guitars, Steve brings a strong singer/songwriter feel to songs that swirl with keyboards, loops, and sequences. Drummer Jason Gerken (Shiner, Season to Risk, Molly McGuire) and keyboardist/guitarist Derek Brown (The Starlight Mints, Chainsaw Kittens, Liz Phair) comprise the live backing band, while an iPod or two provide additional aural accompaniment. Somewhere an Apple notebook fits into the picture as well; I'm just not sure where.
The final element of the Steve Burns live experience seems only natural – video screens. A series of short videos (driven by both the Apple notebook and an auxiliary DVD player) were projected on an impossibly large video screen just to the right of the band. While not nearly as interactive as Tracy + The Plastics, these videos were much more deliberate and synchronized than the simple abstract slide shows bands such as The Faint or The Postal Service have trotted around lately. In fact, these videos were, at times, so compelling that it was quite difficult to watch the performers and not the video screen.
Regardless of their preferential focal point, the audience swooned to a performance that leaned on the album's upbeat songs, skipping (and rightly so) most of the album's piano ballads. Like many in attendance, I came just to see the spectacle of Steve "Blues Clues" Burns, and, to his credit, I believe he understood and anticipated this. Rather than allowing his past to overshadow his present or ignoring his past altogether, he has created a spectacular show giving the audience exactly what they asked for, and not at all what they expected.
Then it was over and nearly half of the audience split. Rumour had spread through the club that snow was falling, and falling like mad. I'd like to think it was a healthy fear of snow, and not a general malaise toward locals Wheat, that forced the exodus; however, the second is probably closer to the truth. The grrls who stood up front were soon replaced with an older crowd, and we all waited while the members of Wheat tested their gear.
Although I'd long been a fan of the band, this was my first time seeing them. Whatever mental image I might have had didn't match the reality. Wheat looked positively bohemian in ripped jeans, flannel shirts and worn work boots. Vocalist/guitarist Scott Levesque's dirty blonde hair hung down to his neck, reminding me more than once of a Damn Yankees-era Tommy Shaw. He was also high as a kite. This was undeniable and driven home various times throughout the evening. Surely there is no other explanation for a man who repeatedly stated "I want to thank you for coming to see The Wheat Band," a statement he'd always follow up with a sly stoner smile that indicated he was quite pleased with himself. Fortunately for Levesque, this was just as charming as it was annoying, and any missteps were easily forgiven.
This connection to the audience reinforced the vestigial "emo" label they've occasionally been saddled with throughout their career. The reality is the band's music has little in common with the genre, and only trades in the same direct and narrative lyrical delivery. Musically, the band is simply a regular rock and roll band with two guitars, bass, keyboards, and drums. Its songs have edge, but there is certainly nothing unexpected about its verse and chorus delivery. While expansive, flowing songs have dotted the band's recorded output, those epics were missing from the live set. "Summer," from the band's second album, was a most conspicuous and missed absence.
The band closed with "I Met a Girl," the lead track from its recently released album Per Second, Per Second, Per Second… Every Second. As with most of Levesque 's stage banter, he attempted to tie his ramblings to the upcoming song title. In this case, the segue way saw Levesque first stating how much he loves playing The Middle East, then imagining that if The Middle East were a girl, he'd have to remind himself that he's "already with someone" – the central theme of the song in question. If it's painful to read, it was just as painful to hear. Thankfully the catchy song with its refrain of "I met a girl who I'd like to know better, but I'm already with someone," carries the song just fine – even without a witty (or not) introduction.
While both the attendees and the other bands seemed anxious about the blizzard in progress, the five members of Wheat seemed more relaxed and accepting. Rather than trying to beat the storm with a quick set, the band played well into the storm and tacked on a two-song encore as punctuation before giving the audience to the snow.
When I left the club, the snow was falling as promised. On the way to my bus, I shuffled my feet on the inch of powder coating the sidewalk just to see the tracks I could leave behind. Each year the first snowfall is an amazing feat of nature and no one can truly begrudge the first large white flakes. It would continue to snow in Boston for the next three days. By Monday morning, many of the city's inhabitants would be shoveling over three feet of the now loathed, graying snow. Airports will have sat idle for days, street plow drivers will have worked as many hours as their black coffee would enable, interstates will have been diverted, and the fact that the Middle East will have to cancel several shows will be of no consequence to the rest of the world. The fact that Wheat, Steve Burns and The Spaceshots even played the Middle East would never really be reported – there was bigger news to report. News of a nor'easter. Of a bona fide blizzard.